Pistorius sentence: Defence battles to avoid jail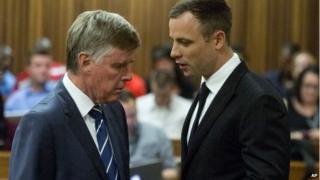 This was Oscar Pistorius's big chance to convince Judge Thokozile Masipa that he doesn't deserve to spend a day in prison for killing his girlfriend Reeva Steenkamp.
It seemed to go reasonably well for the defence.
The athlete's first witness was his trauma counsellor, Dr Lore Hartzenberg, who strongly implied that a "broken" Pistorius, who had lost his "moral and professional reputation" as well has his career, had been punished enough.
Prosecutor Gerrie Nel - all snarls and scepticism - questioned the psychologist's professionalism and bias during cross-examination, but struggled to rattle her.
The next witness was an even tougher challenge for the prosecution, since he was a state employee appearing for the defence. Social worker Joel Maringa assessed what punishment was suitable for Pistorius.
He recommended no time in prison, and three years of house arrest and community service instead.
Mr Nel said Mr Maringa was wrong, and his recommendation "shockingly inappropriate". But the social worker stayed calm and stuck to his conclusions.
The last witness was Pistorius's manager, Peet Van Zyl, who said he'd never met a more "accommodating or humble" person than his client, and highlighted his charity work.
He'll be cross-examined by Mr Nel on Tuesday.
Judge Masipa, as usual, was giving little away, but asked for more details about what "community service" might entail.
If you're looking for clues - that may be the highlight from the first day, and remember, the prosecution has yet to call its own witnesses.