Pistorius sentence: Jail or Olympic training?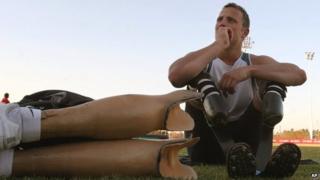 South African athlete Oscar Pistorius has every reason to look uncertain as he returns to court this week in Pretoria.
His future is about to be untangled - and there is a bewildering range of possibilities that must surely now be dancing before his eyes.
Will he vanish into South Africa's prison system for years, or should he be thinking seriously about training for the Brazil Olympics?
Judge Thokosile Masipa - who rejected a murder verdict last month in favour of the lesser charge of culpable homicide - has wide discretion either to put the athlete in jail for years, to give him a suspended sentence or no sentence at all, to fine him, give him a form of house arrest, or community service, or some combination of the above.
As prosecution and defence prepare to call witnesses to support their arguments on sentencing, here are a few thoughts about Judge Masipa's options, and the broader trial:
If he had been convicted of murder, Pistorius might, with his disability taken into account, have been sentenced to around 15 years in prison, which means he would have been eligible for parole after seven and a half.
That now strikes me as the likely upper limit for Judge Masipa as she ponders his fate.
There is a very real chance - backed up by precedent - that Pistorius could be given no jail time at all.
The judge could argue that he is a first-time offender who has shown genuine remorse. But given his criminal misuse of a firearm, what sort of message would that send to the public?
And - this is unanswerable, I suppose - would it even be in his own best interests to serve no prison time?
Would the public here and abroad welcome him back into society, and what sort of stress would he find himself under?
Having given Pistorius the benefit of the doubt in reaching her verdict - and taken plenty of flak for it - Judge Masipa may choose to lean the other way in sentencing.
Will the prosecution seek to appeal against the culpable homicide verdict following sentencing?
I am told it is very likely - indeed many legal experts feel Judge Masipa's ruling was deeply flawed and demands correction.
But if Pistorius is given a significant prison sentence for culpable homicide, might the state decide to make a political decision, cut its losses and let the original verdict remain uncontested?
If the prosecution does appeal against the verdict, would Pistorius seek to remain free on bail, or will he - as I now suspect is more likely - start serving any prison sentence immediately rather than postponing the inevitable?
Lastly, imagine how quick and different this trial could have been if the prosecution had not remorselessly pushed its pre-meditated murder theory, and stuck instead to one of the lesser murder charges.
Prosecutor Gerrie Nel spent weeks trying to prove Pistorius and Reeva Steenkamp's relationship was on the rocks only to see Judge Masipa reject that evidence with a contemptuous wave of her hand (the prosecutors of Shrien Dewani - the UK businessman on trial in Cape Town for murdering his wife - might well take note).
Might the grandstanding Mr Nel have secured a murder conviction if he had not over-reached?