Ebola: Your questions to BBC's Umaru Fofana in Sierra Leone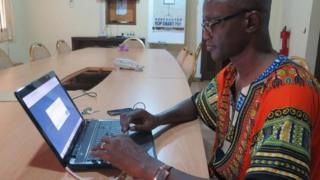 Close to 3,500 people have died of Ebola in Guinea, Liberia and Sierra Leone where governments are struggling to cope with the outbreak.
The BBC's correspondent in Freetown, Umaru Fofana, has been answering your questions on Twitter about the impact of the disease on daily life in Sierra Leone.
Here is an edited version of the session which was held on Wednesday 8 October:
Treatment
Question from @Ndenehc on Twitter: It's the million dollar question - is there a cure? The Gambia leader has lauded that there is one.
Umaru answers: There's no known cure. There are trials for drugs & vaccines. The Zmapp is out of stock - may not be ready again until 2015.
Containment
Question from @eblango on Twitter: Travel ban talks from US. What is the opinion in Sierra Leone on further isolation by Western countries?
Umaru answers: Leaving borders open risks infected people coming in. Closing undermines fighting Ebola as medics & kit need to be flown in.
Question from @SamuelFumbwani on Twitter: Do you think it is time to close borders of all countries where Ebola is rampant?
Umaru answers: Border closures seemed to work in Senegal, Ivory Coast & Gambia. Non-closure blamed for the spread in Sierra Leone & Liberia.
Ebola facts
Question from @Pryncehabyb on Twitter: Is #Ebola now airborne? Still wondering how #EbolaEnEspana happened?
Umaru answers: Scientists insist Ebola is NOT airborne - with the possibility it has mutated does not mean it's airborne.
Question from @brazilhill on Twitter: What are you doing to protect yourself from the affected areas you are reporting from?
Umaru answers: I'm following strict BBC guidelines that are extremely necessary and are geared towards protecting me.
Question from Yonas Abera on Facebook: Why is it so difficult to stop the spread of Ebola?
Umaru answers: The health care system is very weak and preventive measures aren't well known or adhered to. Also a high rate of illiteracy.
Question from Mohamed S Kamara on Facebook: Why are infections increasing in Sierra Leone compared to Guinea where Ebola started?
Umaru answers: Guinea has managed Ebola in part because they have been dealing with it 2 months longer & learned more response protocols.
Question from Jaylee Synyenlentu on Facebook: Why is Ebola in countries that had civil wars? Is it chemical weapons? Or scientific?
Umaru answers: There are many conspiracy theories. It's safe to say it came from bush meat and is now largely transmitted through humans.
Effect of Ebola
Question from @FreetownSpurs on Twitter: What effect will Ebola have on our economy and democracy if not brought under immediate control?
Umaru answers: The economy that had a 17% projected growth rate is now at 7%. World Bank says it will be at zero in 2015 if Ebola continues.
Question from @david_hutcheson on Twitter: Are schools and universities closed? And if so for how long do you think?
Umaru answers: All schools have been closed indefinitely since July. University authorities say it's "highly unlikely" they'll reopen soon.
Question from @rogersmaada on Twitter: When do you think #education in Sierra Leone will resume?
Umaru answers: No-one knows when. Assuming that will be contingent upon the containment of the outbreak.
Question from @TheAlima on Twitter: Given the international assistance are things improving in terms of mobilisation & awareness of the risk?
Umaru answers: People are becoming more hopeful seeing them around. Whether the increasing numbers is positive or negative is debatable.
---
After an hour of answering Ebola queries, Umaru tweeted: "Thank you for all your questions. Sorry I didn't get to answer them all. I will continue to report on #Ebola on the BBC. Inshallah. The world is needed here NOW #AskBBCUmaru".
You can follow @UmaruFofana on Twitter.