Kenya 'not co-operating with ICC' over Kenyatta trial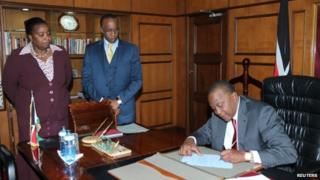 Prosecutors have asked the International Criminal Court (ICC) to rule that Kenya's government is not co-operating with its investigations into Kenyan President Uhuru Kenyatta's case.
The government was not "going to give us what we are asking for", the prosecution said.
Mr Kenyatta denies inciting violence after Kenya's disputed 2007 polls.
The ICC has summoned him to explain allegations that evidence against him had been withheld.
Mr Kenyatta has flown to The Hague for the two-day hearing and he is expected to appear before the court on Wednesday.
If his trial goes ahead, he will be the first serving head of state to be tried by the ICC.
Mr Kenyatta is facing charges of crimes against humanity after being accused of fuelling violence after the 2007 election. More than 1,000 Kenyans were killed in the conflict. He says says the charges are political, and should be thrown out.
'Huge bureaucracy'
Tuesday's hearing went around in circles, reports the BBC's Anna Holligan from court.
Prosecutor Benjamin Gumpert told judges that a deadlock appears to have been reached with Kenya's government over efforts to obtain potential evidence against Mr Kenyatta, the Associated Press (AP) news agency reports.
This included phone records and tax returns, Mr Gumpert said.
"The Kenyan government is not going to give us what we are asking for... If the court is satisfied that our arguments are right it should make a finding of non-compliance on the part of the government of Kenya," he added.
Kenya's Attorney General Githu Muigai said his country, like any other, "had a huge bureaucracy", the AFP news agency reports.
He had written to a large number of government agencies asking them to provide information, Mr Muigai said.
"If we desire to delay or obstruct there would have been no reason for me to commence these consultations," he is quoted as saying.
'Conscience clear'
Mr Kenyatta was elected president in 2013, despite facing charges.
Analysts said he turned the prosecution to his advantage, portraying it as foreign intervention in Kenya's domestic affairs.
Deputy President William Ruto will be acting president while Mr Kenyatta is at The Hague.
On Monday, the president again stressed his innocence, saying his conscience was clear.
He faces five charges relating to the ethnic massacres - the worst violence in Kenya since independence in 1963. Tens of thousands of people were displaced and Kenya's reputation for stability was tarnished.
Mr Kenyatta was a close ally of President Mwai Kibaki, who was declared the winner of the 2007 election. Mr Kibaki's rival, Raila Odinga, claimed the poll was marred by fraud.
The dispute took on an ethnic dimension, pitting members of the Kikuyu ethnic group of Mr Kenyatta and Mr Kibaki against other communities. Mr Kenyatta is accused of organising an ethnic Kikuyu gang, the Mungiki sect, to attack rival groups.
Vice-President Ruto also faces charges at The Hague, but he was on Mr Odinga's side during the violence. He also denies the charges.