Somali pirates in 'deadly clashes over ransom'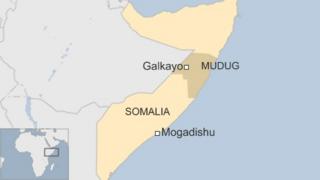 At least five people have died in Somalia in clashes between pirates fighting over a ransom paid for a recently released hostage, sources have told the BBC.
The gunfight broke out in the central town of Galkayo on Thursday afternoon.
Journalist Michael Scott Moore, who has dual US and German citizenship, was freed on Tuesday after nearly three years in captivity.
But there has been no confirmation that a ransom was paid for his release.
It is not clear exactly who was holding him.
He was kidnapped in January 2012 while researching a book on piracy.
The clashes began after a long argument about how the ransom should be divided, several sources in Galkayo said.
Four men and a woman were killed, they said.
Police official Mohamed Hassan told the Associated Press agency that a top pirate commander was among those who died.
He also said that a ransom had been paid.
Various armed groups have been battling for control of Somalia since the overthrow of President Siad Barre in 1991 - a situation that has allowed pirates to flourish.
Regional centres like Galkayo in Somalia's north-eastern region of Puntland have benefited from investment funded by piracy.
But incidents of piracy off Somalia's coast have dropped recently - with armed guards on ships and international navy patrols cited as some of the reasons by maritime experts.