Dalai Lama cancels South Africa visit over visa row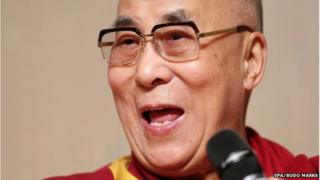 The Dalai Lama has cancelled a visit to South Africa, where he was planning to attend a meeting of fellow Nobel peace laureates in Cape Town next month.
The exiled Tibetan spiritual leader withdrew his visa application after his officials said it would be denied.
The South African government has denied blocking the visa under pressure from China, a key trading partner.
China sees the Dalai Lama, who campaigns for the rights of Tibetans, as a dangerous separatist leader.
Two years ago, a court ruled that South Africa had acted unlawfully by "unreasonably delaying" a decision to grant the Dalai Lama a visa in October 2011.
The delay meant the Dalai Lama was unable to attend celebrations to mark the 80th birthday of his friend, fellow Nobel laureate Archbishop Desmond Tutu in Cape Town.
South Africa's government maintained it did not come under pressure from China to stop the trip.