Nairobi Westgate attack: Suspects 'beaten' in prison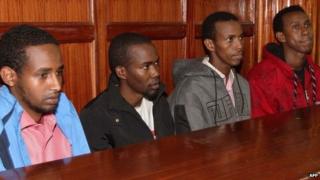 Four Somalis being held in prison in Kenya on terrorism charges linked to last year's Westgate shopping centre attacks, say they have been beaten for refusing to wear prison uniforms.
Nine other Somali suspects facing different terrorism charges also claim they were seriously beaten by guards.
Lawyers want the men's injuries to be seen independently.
At least 67 people died when suspected militants attacked the mall in the capital Nairobi last September.
Last week's incident happened when the suspects refused to wear uniforms normally required for convicted inmates serving a prison sentence in Kenya, the BBC's Dennis Okari said.
A defence lawyer for the men told the BBC that, following the complaints, he was now concerned for their health and about the risk of physical abuse from other inmates.
"The number of the injured accused persons is quite large and our main concern is ... [whether] they are getting medical attention," said Mwaniki Gachomo.
The prison authorities were not available for comment.
The ongoing trial involving the four suspects has yet to establish any evidence they were involved in helping the gunmen during last September's four-day shopping centre siege.
The four men face charges of conspiracy to commit terrorist attacks, membership of a terrorist organisation and possessing materials linked to terrorism offences.
So far, more than 35 witnesses have appeared at the trial, and at least another 10 are expected to give evidence.