Ebola spreads to Nigeria oil hub Port Harcourt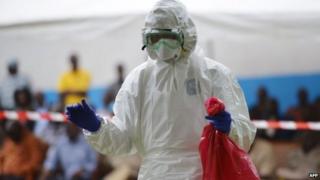 Nigeria has confirmed its first Ebola death outside Lagos – a doctor in the oil hub of Port Harcourt.
His wife has been put under quarantine, while a further 70 people in the city are under surveillance.
Latest figures show more than 1,550 people have died of Ebola, with at least 3,000 confirmed cases - mostly in Guinea, Liberia and Sierra Leone.
The World Health Organization (WHO) estimates that the total number of cases could potentially exceed 20,000.
In an action plan to deal with the outbreak, the WHO said that "the actual number of cases may be 2-4 fold higher than that currently reported" in some areas.
Speaking to reporters, the WHO assistant director-general, Bruce Aylward, said the possibility of 20,000 cases "is a scale that I think has not ever been anticipated in terms of an Ebola outbreak".
He added: "That's not saying we expect 20,000... but we have got to have a system in place that we can deal with robust numbers.''
This unprecedented outbreak is currently out of control as medical agencies struggle to cope with the increasing number of cases on the ground and continue to face hostility from communities in certain affected areas, the BBC's West Africa correspondent Thomas Fessy reports.
Before any results are seen on the ground, the number of infected people will probably continue to grow given that most treatment centres are already operating at full capacity, our correspondent adds.
Vaccine trial
West Africa's health ministers are meeting in Ghana to discuss how to tackle the world's most deadly Ebola outbreak.
Meanwhile, an international health consortium says that a trial vaccine against Ebola could be given to healthy volunteers in the UK in September, followed by trials in The Gambia and Mali.
---
Ebola Virus Disease (EVD)
Symptoms include high fever, bleeding and central nervous system damage
Fatality rate can reach 90% - but current outbreak has mortality rate of about 55%
Incubation period is two to 21 days
There is no vaccine or cure
Supportive care such as rehydrating patients who have diarrhoea and vomiting can help recovery
Fruit bats, a delicacy for some West Africans, are considered to be virus's natural host
---
Ebola was taken to Nigeria by Patrick Sawyer, a Liberian-American man who travelled to Lagos before dying.
One of his contacts evaded Nigeria's surveillance team and travelled to Port Harcourt, where he sought medical treatment, Health Minister Onyebuchi Chukwu said.
Although the man later recovered, the doctor who treated him died and tests showed he had Ebola, the minister said.
The doctor had died last Friday but the results of the tests have only just been announced by the health minister.
The doctor who treated Mr Sawyer also died.
Nigeria schools shut
More than 240 health workers have been infected with Ebola - a rate which the World Health Organization (WHO) said was "unprecedented".
It noted that in many cases protective suits, even rubber gloves and face masks, were not available.
The doctor becomes the sixth fatality in Nigeria, which is Africa's most populous country.
On Wednesday, Nigeria announced that schools would not reopen until 13 October in order to try and contain the disease.
---
Nigerian voices: Ali Sadiq, public servant based in Abuja
"The postponement of the schools' resumption by the federal government is a good move but the extension is too long. I can't imagine my two kids wasting six more weeks at home. Two to three weeks would have been enough for all that."
Mixed reaction to Nigeria schools closure
---