DR Congo war crimes trial of Egangela 'a test case of justice'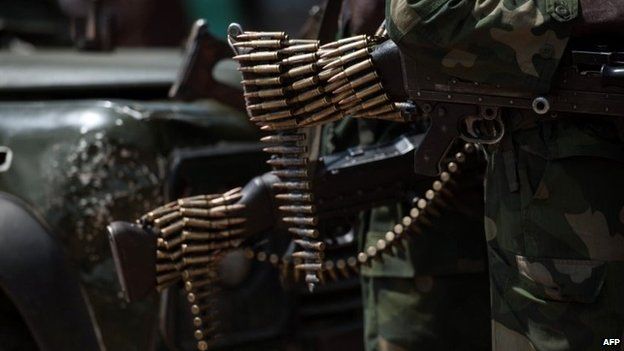 The war crimes trial in the Democratic Republic of Congo of an ex-army officer will be a test of military justice, the UN mission in the country says.
Lt Col Bedi Mobuli Egangela is charged with crimes including murder, rape and torture allegedly committed between 2005-2006 in eastern DR Congo.
"He's a very symbolic case," the UN's Scott Campbell told the BBC.
The former commander, known as "Colonel 106", has denied the charges.
Conflict in eastern DR Congo has continued long after the end of the country's civil war in 2002 as numerous armed groups compete for the control of the area's rich mineral resources.
Col Egangela was a militia leader who was incorporated into the army as part of peace deal, becoming the commander of the 106th battalion.
Before he joined the army he had allegedly recruited child soldiers and ordered attacks on several villages in South Kivu province - and abuses against civilians are alleged to have continued when he was an army commander.
The officer then deserted from army ranks after a few years and went back to leading his Resistance Patriots Mai Mai rebel group.
About 100 alleged victims are expected to testify at the colonel's trial, although more than 900 people have been identified as victims, the charity Avocats sans Frontieres (Lawyers without Borders) says.
"He has committed many of the most serious crimes that we see all too often in DR Congo," said Mr Campbell, from the UN mission's human rights division.
"The UN Security Council and different special representatives of the [UN] secretary general have been very focused on this case as a bit of a test case to see if military justice can deliver justice for very serious crimes - and committed by a senior officer within the Congolese army."
The BBC's Maud Jullien in the capital, Kinshasa, says earlier this year the trial of 39 mainly low-ranking soldiers charged with mass rape raised hopes that victims of army abuse would find justice.
But it ended with only two of the men being convicted for sexual violence.
The trial of "Colonel 106" began on Monday in South Kivu and is expected to last for about three weeks, our reporter says.