Boko Haram crisis: Nigeria soldiers' wives protest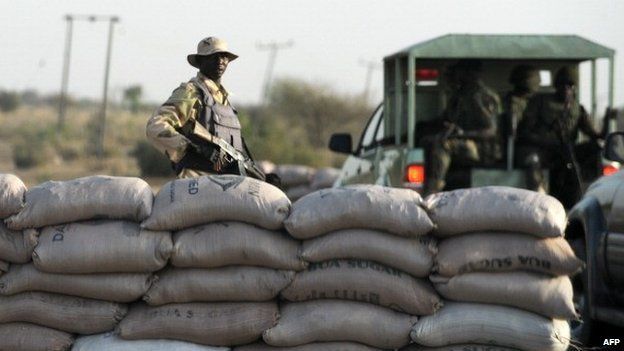 The wives of Nigerian soldiers have protested against their husbands being sent to fight militant Islamist group Boko Haram, a demonstrator has said.
The protest at the main military barracks in north-eastern Maiduguri city came as the government vowed to retake Gwoza town from the militants.
Hundreds of people were killed when Boko Haram seized Gwoza last week, the area's senator, Ali Ndume, said.
Boko Haram is fighting to create an Islamic state in Nigeria.
The BBC's Abdullahi Kaura Abubakar in the capital, Abuja, says he understands that about 100 women protested at the Giwa barracks in Maiduguri, the capital of Borno state.
It is the latest sign of growing dissatisfaction with the military top brass, he says.
Soldiers have repeatedly complained Boko Haram has superior firepower and they are in position to confront the militants.
In May, some soldiers opened fire on their commander, Maj-Gen Ahmed Mohammed, at Maiduguri's Maimalari barracks, blaming him for the killing of their colleagues by Boko Haram fighters.
Founded in 2002
Initially focused on opposing Western education - Boko Haram means "Western education is forbidden" in the Hausa language
Launched military operations in 2009 to create an Islamic state
Thousands killed, mostly in north-eastern Nigeria - but also attacks on police and UN headquarters in capital, Abuja
Some three million people affected
Declared terrorist group by US in 2013
A wife of a soldier, who spoke to the BBC on condition of anonymity, said they were opposed to their husbands going into battle.
When their husbands were sent to the front line on 13 March, Boko Haram launched an assault on the barracks the next day, she said.
Her home was burnt, and her neighbour's four children were killed, the woman added.
"Now [the army] want to send our husbands to Gwoza and we said 'no'," she told the BBC.
"Our husbands have been fighting Boko Haram for six years now. If they get killed or injured, they [the army] will not take care for us."
Mr Ndume told the BBC that hundreds of bodies were decomposing on the streets of Gwoza after Boko Haram took control of the town last week.
The attack was brutal, with the local imam's throat slit, he said.
Our correspondent says the militants apparently retreated to Gwoza after losing control of Damboa town, about 70km (45 miles) away, to the army.
Many people have fled Gwoza, which had a population of about 50,000, our correspondent says.
Nigeria's Interior Minister Abba Moro said the military was reorganising itself with the aim of regaining control of the town.
Last week, government forces failed in a bid to take Gwoza after they were ambushed, our reporter says.
The army had earlier re-captured Damboa, held by Boko Haram since July, after fierce fighting, he says.
The violence in Nigeria has forced some 250,000 people from their homes this year, according to the government's relief agency.
More than three million people are facing a humanitarian crisis.
A state of emergency was declared in Borno and two other north-eastern sates last year to help the military crush the insurgency but the militants have stepped up attacks since then.
In April, Boko Haram caused global outrage by abducting more than 200 schoolchildren in Chibok town in Borno state.
The group has also carried out a wave of bombings and assassinations, including that of moderate Muslim leaders opposed to its ideology.