Pistorius trial: Defence team counter 'inconsistencies'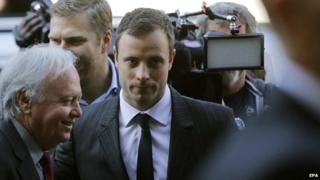 Prosecutor Gerrie Nel presented a "baker's dozen" of alleged inconsistencies in Oscar Pistorius' defence case during his closing argument on Thursday.
But the athlete's lawyer, Barry Roux, hit back at the allegations in his concluding remarks on Friday.
Here is a summary of Mr Roux's reply to each of the supposed incongruities:
1. Oscar Pistorius lied about never having heard the term "zombie stopper," according to Gerrie Nel. But Barry Roux said the phrase had so little relevance to the case that it should have come as no surprise that the athlete forgot he used it once in the past.
2. Did Mr Pistorius go "to" the balcony or "onto" the balcony? Mr Nel claimed the sportsman had given conflicting accounts of this, but Mr Roux says Mr Pistorius' use of "onto" in his testimony was "merely erroneous and due to his manner of speaking".
3. Mr Nel raised doubts over the athlete's recollection of two fans in his bedroom, but Mr Roux countered that there were more doubts over the "mysterious loss" of an extension cord. That cord would have explained Mr Pistorius' version of events, Mr Roux says.
4. The athlete claimed police had tampered with the fans but the defence failed to raise this with police, Mr Nel said on Thursday. But Mr Roux said this failure was due to the state not calling Hilton Botha, the former lead detective in the inquiry, and allowing the defence to cross-examine him.
5. Mr Nel also raised questions over the location of the duvet, but Mr Roux says once again that the failure to call Mr Botha meant that the defence were unable to pursue Mr Pistorius' claims of police tampering.
6. Mr Roux again counters the prosecutor's attack on Mr Pistorius' evidence by claiming that Mr Nel himself ignored a clear admission from police crime scene photographer Bennie Van Staden that a bathroom mat "could have been shifted whilst I was trampling upon it". This, Mr Roux says, shows tampering occurred.
7. Mr Nel said Mr Pistorius' testimony about the position of the duvet led him to contradict himself about when he last saw Ms Steenkamp. But Mr Roux insists there were no contradictions and blames the confusion over Mr Botha's absence once again. "The failure by the State to call Hilton Botha has resulted in the unexplained scenario," Mr Roux says.
8. The prosecutor creates confusion, "perhaps purposefully so," Mr Roux says, over what Mr Pistorius could and couldn't have seen but the defence lawyer says that there is no contradiction in the evidence.
9. Was Mr Pistorius bothered by a blue LED light on an amplifier near his bed? Mr Nel said the athlete made this up to explain how Ms Steenkamp got to the bathroom without being seen by him, but Mr Roux says there are no doubts in the testimony.
10. Mr Nel said it was impossible that Ms Steenkamp's jeans, which Mr Pistorius says he was holding, would have ended up on top of the duvet on the floor if the duvet was not already on the floor. But Mr Roux says the evidence heard by the court was inconclusive about the position of the jeans.
11. Did Mr Pistorius have a conversation with his girlfriend that he forgot to include in his bail application? That was Mr Nel's contention and Mr Roux admits that "not every minute detail of the events as they unfolded" were included in that document.
12. Mr Nel accused the athlete of saying, at first, that he whispered to his girlfriend when he heard a noise, but then changed his evidence to having spoken to her in a "soft manner". But Mr Roux says this is "of no consequence" and is simply another example of Mr Pistorius' "interchangeable manner of speaking".
13. Did Mr Pistorius deactivate the house alarm after shooting Ms Steenkamp? Mr Roux says Mr Nel's assertion fails to account for several possibilities, including that the alarm could have been deactivated by the athlete's girlfriend. He also points out that the area in which Mr Pistorius believed an intruder had entered was not covered by an alarm system.