Oscar Pistorius trial: Nel covers all options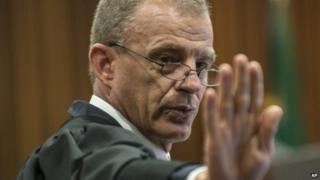 It was an impressive display of sustained incredulity.
Prosecutor Gerrie Nel, standing in courtroom GD for most of Thursday searched for new words - "mendacity", "deceitfulness", "a snowball" of lies - to describe Oscar Pistorius' version of events the night he killed Reeva Steenkamp.
The man so-often dubbed the pit bull for his ruthlessly effective cross-examinations spent a good deal of time reading from his written arguments, which were surprisingly flowery in tone and language. It was like finding out your favourite boxer is a closet Proust fan.
But this was an important day in a long trial. And Mr Nel cast his net wide. He raced from one "lie" to the next, seldom pausing for breath as he sought to direct Judge Thokosile Masipa towards the strongest aspects of the state's case.
There were the neighbours who heard a woman screaming. There was the forensic evidence suggesting Reeva Steenkamp had eaten a late night meal. There was the disputed crime scene itself. And the defence's "incompetent" expert witnesses.
But most of all, there was Oscar Pistorius himself, his "weak" performance as a witness, and his "contradictory" explanations for what happened that night.
Where the prosecutor struck home most convincingly, in my opinion, was when he focused directly on those four closely grouped gunshots in Mr Pistorius' toilet door, and argued that nobody who shoots repeatedly into such a confined space can possibly pretend that they did not intend to kill someone, whether a girlfriend or a perceived intruder.
Mr Nel went on to insist that Mr Pistorius was guilty of pre-meditated murder, because he had had time to plan his actions as he grabbed his gun and advanced towards the bathroom.
But like a merchant seeking to seal the deal - any deal - Mr Nel offered Justice Masipa a range of other choices. Three more, by my count. From the deliberate murder of either of an intruder or Reeva Steenkamp (dolus directus), to the unintended but foreseeable murder of either of them (dolus eventualis), to culpable homicide.
In the past I have accused the prosecution of failing to offer the court a coherent version of what it believes happened that night, and of focusing instead of simply trying to discredit Mr Pistorius' own version.
Perhaps it is not a bad strategy. Still, it was disappointing to see Mr Nel once again dodging the opportunity to sell a comprehensive theory.
The state has produced plenty of damaging claims about Oscar Pistorius' version of events and about his character - not least his refusal to accept blame for the other two gunshot incidents.
But it has consistently avoided weaving them into a minute-by-minute timeline. Instead, Thursday seemed mostly to be a rehash of things Mr Nel has been saying for some time in court.
So for me, the real focus of these final arguments will be Friday's speech by defence lawyer Barry Roux.
He has been eclipsed for some time by Mr Nel's show-stealing performance, but we were given a glimpse on Thursday of the sort of detailed timeline Mr Roux has been preparing.
I suspect Judge Masipa will find Mr Roux's timeline quite persuasive. But that will not affect the core question of this trial - the question that could yet see Oscar Pistorius convicted of murder even on his own version of events.
How could you fire four shots into a small cubicle and not intend to kill someone?