Ebola crisis: Liberia and Sierra Leone blockades go up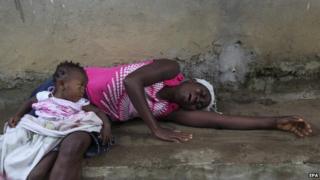 Liberian soldiers have set up a blockade stopping people from western regions affected by the Ebola outbreak from entering the capital, Monrovia.
It follows the president's declaration of a state of emergency to tackle the outbreak that has killed more than 930 people in West Africa this year.
In Sierra Leone the security forces have now imposed a complete blockade of eastern areas hit by Ebola.
Health experts in Switzerland are discussing a response to the outbreak.
It is the world's deadliest outbreak and the two-day World Health Organization (WHO) meeting will decide whether to declare a global health emergency.
Ebola, a viral haemorrhagic fever, is one of the deadliest diseases known to humans, with a fatality rate in this outbreak of between 50% and 60%. It is spread through contact with the bodily fluids of Ebola patients showing symptoms.
Analysis: Jonathan Paye-Layleh, BBC News, Monrovia
The military blockade is stopping people from western regions of Grand Cape Mount and Bomi, where Ebola is prevalent, from entering the capital.
These counties largely rely on Monrovia for their goods - and the blockade means that the cities of Robertsport and Tubmanburg are now cut off. One Tubmanburg resident phoned into a radio show to complain that rice, the national staple, was already in short supply in the market.
The head of the National Health Workers Association said while the state of emergency was necessary, people should have been given time to prepare. Fear has prompted hospital workers to abandon clinics - meaning many are now shut.
President Sirleaf said this meant many diseases prevalent during the rainy season, such as malaria and typhoid, were going untreated and there could be unnecessary and preventable deaths as a result.
Announcing a state of emergency for 90 days, President Sirleaf said the government and people of Liberia required "extraordinary measures for the very survival of our state and for the protection of the lives of our people".
Speaking from a crossroads 37km (23 miles) west of Monrovia, the BBC's Jonathan Paye-Layleh said soldiers had been deployed to stop the movement of people - many of whom are traders.
In neighbouring Sierra Leone, the head of the police in the east of the country said police and soldiers had imposed a "complete blockade" of the Kenema and Kailahun districts.
"No vehicles or persons will be allowed in or out of the districts" except those with essential food and medicines, he said.
---
Dr Tabeh Freeman at Liberia's Bong Mines Hospital told the BBC:
There has been carelessness on the president's part: she declared a state of emergency very late. It is very scary; some of my colleagues have died.
We have not had a confirmed case at my facility, but about 24km away, a patient tested positive. Twelve nurses have been coming down with symptoms and have been quarantined.
When there is a suspected case, protocol demands that the Ebola surveillance team should be contacted so blood samples can be collected. That is not happening.
Because of the high number of cases and very limited resources, the hospital's own laboratory technicians are asked to draw samples, which is very risky. As a result, some of them have been infected. When the specimen finally reaches the testing centre, it takes two to three days before the results come back.
That is too long, especially when the patient is still in the community. The longer the results take to come back, the faster the patient spreads the virus.
---
In other developments:
A Spanish priest who contracted Ebola while working in a hospital in Liberia was flown back to Spain for treatment, along with a nun who is to be isolated in case of infection
The UK announced it would provide £3m ($5m) to strengthen health systems in Liberia and Sierra Leone and support aid agencies in limiting the spread of Ebola, taking the UK's total contribution to £5m
The WHO said it would convene a meeting of medical ethics specialists next week to decide whether to approve experimental treatment for Ebola
There is confusion in Nigeria about whether a doctors' strike over pay, which began more than a month ago, has been suspended over the outbreak
If a public health emergency is declared by the WHO, it could involve detailed plans to identify, isolate and treat cases, as well as impose travel restrictions on affected areas.
There is no cure or vaccine for Ebola - but patients have a better chance of survival if they receive early treatment.
Ebola has initial flu-like symptoms that can lead to external haemorrhaging from areas like eyes and gums, and internal bleeding which can lead to organ failure.
Ebola virus disease (EVD)
Symptoms include high fever, bleeding and central nervous system damage
Fatality rate can reach 90% - but the current outbreak is about 55%
Incubation period is two to 21 days
There is no vaccine or cure
Supportive care such as rehydrating patients who have diarrhoea and vomiting can help recovery
Fruit bats are considered to be virus' natural host
Ebola: Experimental treatments