Central African Republic crisis: 'Lame-duck' president?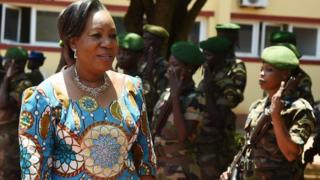 The Presidential Palace in the Central African Republic (CAR) - a collection of tired-looking white buildings set around a pot-holed central parade ground - sits on a gentle slope overlooking the centre of the capital, Bangui.
Years ago, during the rule of the self-proclaimed Emperor Bokassa, the palace was at the heart of an intimidating, highly centralised, all-powerful regime.
In Bangui this week, one of the emperor's former bodyguards told me, over a drink, how he had been jailed for four years - and six of his colleagues executed - on the basis of some idle, incorrect, palace gossip.
Today, by contrast, it is tempting to conclude that the authority emanating from the Presidential Palace stretches no further than the iron gates that punctuate its high-security walls.
Outside, African Union peacekeepers guard the complex, and waved us casually through the rear gate and on towards a dark corridor.
"We are in a state of crisis. I have more important things to deal with," said Fernande Sackanot gruffly, before rushing off and consigning our month-long attempt to secure a presidential interview to the long grass.
The Central African Republic is, indeed, in a state of crisis.
Mrs Sackanot had recently returned with President Catherine Samba-Panza from peace talks in neighbouring Congo-Brazzaville.
A ceasefire had been agreed between warring groups and now Mrs Sackanot was busy trying to prepare a series of state television reports explaining the contents and implications of the Brazzaville agreement.
And yet, as I had discovered a couple of days earlier, the ceasefire has already been loudly rejected by key figures in the chaotic assortment of armed formations that pass for opposing sides in this conflict.
In fact the very word "ceasefire" seems almost quaint in the context of the Central African Republic - a word that assumes a measure of organisation, leadership, discipline and - above all - of central control in a country being terrorised by forces now operating on an almost exclusively localised basis.
Eid anger
Which brings me to CAR's interim President Samba-Panza herself.
To her many supporters, she is a highly respected businesswoman, lawyer, politician and former mayor of Bangui, who is making a good fist of an almost impossible job - trying to weave together a functioning government from the chaos of CAR's civil war.
The ceasefire may be flawed, but in glass-half-full terms, it is at least a basis on which to start building a transitional governing coalition.
Then there are the president's detractors - a steadily expanding group.
Their criticism of her goes something like this: President Samba-Panza is the definition of a lame duck - a leader with no army, whose authority extends no further than her front door, and who shows little appetite (security concerns notwithstanding) for the nuts and bolts actions that might help to spread it further (and here we return to the centralising political instincts that still seem to hold in CAR).
The president - it is widely noted here - spends a great deal of time flying from one foreign city to another.
Important work, no doubt - although much has been made of this incident at a recent summit where she was reported to have been asked to wait in a corridor while neighbouring heads of state discussed her country's fate.
But back home, her own spokesman could give me only two examples of trips she had made to other towns within CAR.
On Monday, the president did not even find time to visit residents of the last remaining Muslim neighbourhood in Bangui, to wish them a happy Eid.
Her absence prompted genuine bitterness there, and can only have played into the hands of those arguing for the country to be partitioned along religious lines.
Fresh baguettes
"We can't just wave a magic wand to fix our problems," said presidential spokesman Clement Guiyama-Massogo, who stressed that a goodwill message was being sent to Muslims in Bangui.
"It's a process, and we're at the start of it. The majority of Central Africans are not in favour of partition," he insisted.
I mentioned the criticisms I had heard - the "lame-duck" claims.
"We represent the country. It's still standing. Those who criticise are the ones who've torn apart the army and the state, who've brought disorder," he said angrily.
"We can't take them seriously because they're the cause of our problems - they're the people we're battling with now to find a solution.
"Madame president has plans to travel widely through the countryside. But the appropriate conditions are required."
We drove out of the palace and back down the hill into town.
On the surface, Bangui seems to be thriving: The Grand Cafe is selling fresh baguettes to the foreign aid workers in their 4x4 vehicles; a new ditch is being built by local workmen along the Avenue de l'Independence and several markets have come back to life.
Everywhere you see African Union, French and various other European troops patrolling the streets.
The fate of Bangui is crucial.
If political stability and security can be established here, there is a chance it will trickle out into the rest of the country, to places like Bambari and beyond.
But in the longer term, it strikes me that the reverse needs to be true for CAR - that the centre needs devolve power to, and derive its authority from, all those voices I have been hearing this past week, in forgotten, isolated towns and villages where anarchy is not a theoretical issue to be discussed at ceasefire negotiations, but a daily threat to life.
---
Read Andrew Harding's previous reports from his trip in CAR: