Cameroon army officers sacked after Boko Haram attacks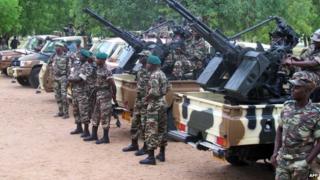 Cameroon's President Paul Biya has sacked two senior army officers at the forefront of the battle against militant Islamist group Boko Haram.
State radio did not give reasons for the dismissal of Col Youssa Gedeon and Lt-Col Justin Ngonga.
The decision probably reflects Mr Biya's growing concern about the Boko Haram threat, correspondents say.
On Sunday, the deputy prime minister's wife was abducted by suspected militants.
She was abducted in the northern town of Kolofata, along with her maid, a religious leader and the local mayor.
'Total war'
The BBC's Muhaman Babalala in Cameroon's capital, Yaounde, says the abductions showed a clear lapse in security, and the government may have therefore decided to sack the officers.
They were in charge of military operations in northern areas along the porous border with Nigeria, he says.
In May, Mr Biya promised a "total war" against Boko Haram.
Boko Haram is fighting for an Islamic state in Nigeria, but has carried out a series of cross-border raids in Cameroon.
The group attacked Cameroon three times last week, killing at least four soldiers, Reuters news agency reports.
Militants have kidnapped foreign nationals in northern Cameroon before, including a French family and Chinese workers.