Nigeria's Borno state bans cars during Eid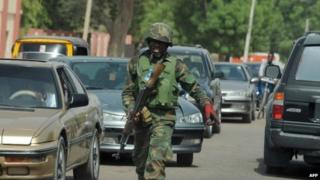 The use of vehicles in Nigeria's north-eastern Borno state has been banned during Eid, the three-day festival that ends Ramadan, the Muslim fasting month.
Eid started on Sunday in Nigeria, and authorities say they have intelligence that Islamist group Boko Haram is planning to carry out car bomb attacks.
Meanwhile, police say a bomb has exploded in the northern city of Kano.
For a third year the city's famous Eid durbar, or horse parading ceremony, has been cancelled due to security fears.
Boko Haram has carried out a wave of bombings and assassinations in Nigeria since it launched a brutal insurgency in 2009.
It sparked international outrage in April by abducting more than 200 girls from their boarding school in Borno state, where the militants are mainly based.
On Sunday, police said a bomb was thrown at worshippers in Kano as they were leaving a church killing four people; separately, a female suicide bomber blew herself as she was cornered by police near the city's university.
Details about the blast on Monday morning are still sketchy, but the BBC's Yusuf Ibrahim Yakasai in Kano says three people who were queuing up with others to buy kerosene from a garage have been killed by an apparent suicide bomber.
'Traumatised'
The governor of Borno state, Kashim Shettima, said the decision to ban cars was taken "in order to safeguard the lives of the innocent citizens".
He was traumatised to see people walking for miles in Maiduguri, the state capital, he said, "under the scotching sun in an attempt to observe a very important spiritual rite which is the Eid prayers".
"I am very much aware that there are those of our citizens who only get what to feed themselves and their families after going out every day either as traders, transporters or artisans,
"I know that the restriction of vehicle movement would greatly impede on their source of livelihood," he said.
"But we all have to be alive before we can do anything at all."
In May 2013, President Goodluck Jonathan imposed a state of emergency on Borno and its neighbouring states of Adamawa and Yobe. But the military's efforts have failed to contain the emergency.
There are almost daily attacks in the north-east and New York-based Human Rights Watch says more than 2,000 civilians have been killed by the militants this year.
On Sunday, the Cameroonian military said Boko Haram members had abducted the wife of the country's deputy prime minister in the northern Cameroonian town of Kolofata.
The militants have kidnapped foreign nationals in northern Cameroon before, including a French family and Chinese workers.
Who are Boko Haram?
Founded in 2002
Initially focused on opposing Western education - Boko Haram means "Western education is forbidden" in the Hausa language
Launched military operations in 2009 to create Islamic state
Thousands killed, mostly in north-eastern Nigeria - also attacked police and UN headquarters in capital, Abuja
Some three million people affected
Declared terrorist group by US in 2013