Ghana protests over high cost of living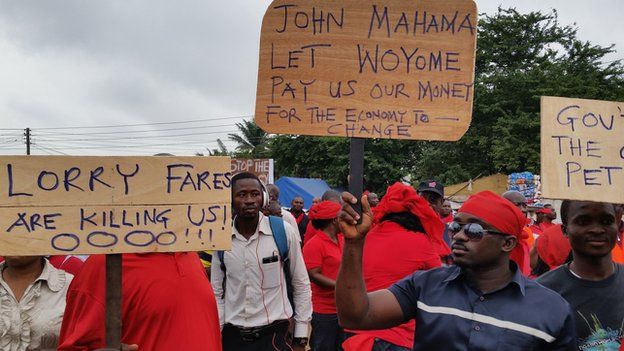 Thousands of workers across Ghana have taken to the streets to protest about the rise in the cost of living.
The nationwide strike was organised by the country's largest trade union congress.
It says the government is mismanaging the economy as inflation is running at close to 15%.
The protesters called for President John Dramani Mahama to restore the 23% subsidy that has been removed from petroleum products.
The national currency, the cedi, has depreciated against the US dollar by more than 27% this year.
BBC Africa's Sammy Darko in the capital, Accra, says the slump in the currency has led to the price of consumer goods such as sugar and fuel.
Taxes have also gone up and utilities by more than 50%, he says.
In Accra, the protesters, mainly clad in red, chanted, sang, danced and blew vuvuzelas amidst brass band music, for about four hours creating traffic jams in the city centre, he says.
One of the many hand-written placards they held read: "Somalia's shilling is doing better than Ghana's cedi".
Leaders of the demonstration presented a four-page petition to Haruna Iddrisu, the minister of employment and labour relations.
The minister, surrounded by dozens of armed officers, tried to address the crowd which kept shouting and hooting through his address, our correspondent says.
He eventually found a megaphone to tell them that the government would work "fastidiously to invigorate the economy to make life easier not harder for the working people and citizens of Ghana".
"You have made eloquent pronouncement of concerns through this act of demonstration… the placards you carry reflect a mirror some of your concerns," he said.
But Mr Iddrisu said all Ghanaians would have to make "some sacrifices for the economy to recover".
Related Internet Links
The BBC is not responsible for the content of external sites.