How did Oscar Pistorius' defence fare?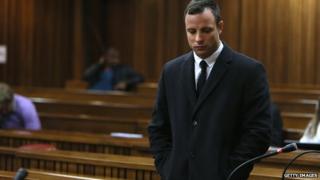 Judge Thokozile Masipa stood up, bowed and walked stiffly out of courtroom GD; minutes later South African athlete Oscar Pistorius slipped away too, followed by his legal team.
No-one appeared to be smiling.
Within an hour, the court had been stripped of its automated television cameras, and prosecutor Gerrie Nel - clad now in an incongruously cuddly jumper - was busy helping his colleagues clear away the paraphernalia of 39 days of testimony, tears and confrontation.
The defence and prosecution teams now have a month between them to finish sifting through the evidence collected on the witness stand - its creaking, shabby seat now bearing testimony in its own way to all those frayed nerves - and to weave dozens of strands into compelling, but competing legal arguments that will be presented to the judge on 7 and 8 August.
So how did Oscar Pistorius and his expensive legal team perform?
Did they do enough damage to the prosecution's case?
And is there a chance that the athlete could be acquitted of either murder or culpable homicide following the killing of Reeva Steenkamp?
Let me start by clearing away some debris.
This case will not be decided on the forensics.
The experts seemed to agree broadly on many important facts.
The more minor disagreements - Ms Steenkamp's last meal; how and where she fell - don't strike me, ultimately, as pivotal ones.
The neighbours' testimony will not swing it either.
The state's witnesses insist they heard a woman screaming. The defence's witnesses - who live closer - heard a man.
I would put the defence ahead there, but not conclusively.
Courtroom drama
In theory, the court theatrics should not count either.
Prosecutor Nel did a snarlingly effective job of challenging and damaging the credibility of some of the defence's experts, and, of course, of Mr Pistorius himself.
It was dramatic stuff.
But the judge should now focus on the written evidence produced, not the combative manner in which some of it was obtained - we can leave that for any appeal.
So what does that evidence suggest?
The defence has worked hard - though some of their experts lacked a certain polish - to establish a precise timeline that accounts for the first "gunshots", the screams, the second set of "bangs" and the frantic telephone calls made by Mr Pistorius, some of his neighbours and security at the estate.
Yes, there are gaps and question marks - and plenty of room for alternative interpretations.
But it remains my sense that the defence's timeline has not been fundamentally discredited by the prosecution.
This is important - the judge has to choose between two versions - and significantly, the prosecution has not yet offered the court any coherent alternative explanation for, among other things, what those first "bangs" were.
Given that the forensic experts agreed the bullet holes were made in the toilet door before it was struck with a cricket bat, the prosecution's argument here will be keenly awaited.
But all this helps Mr Pistorius only so far.
Imagine that Judge Masipa had got stuck in a traffic jam and missed the first two weeks of the trial.
Imagine that she, the public, the media - all right, let us say everyone - did not even bother showing up until the defence began to argue its case.
Even then - as I have argued before Oscar Pistorius would have a big problem.
In fact, if Mr Nel had sat back in court and simply smiled and shaken his head as each defence witness was offered to him for cross-examination, Mr Pistorius would have a big problem.
His own version of events - that he shot through the toilet door, convinced an armed intruder was on the far side, feeling vulnerable because of his disability, and desperate to protect himself and his girlfriend - still leaves him open to the very real possibility that Judge Masipa could find him guilty of murder or culpable homicide.
The prosecution knows that.
'The two Oscars'
Hence its scattergun approach to this case. The onus, throughout, has been on the defence.
In the end, I strongly suspect, this trial will hinge on what Judge Masipa concludes was going through Mr Pistorius's mind when he fired those four shots.
Will she accept his muddled, tearful, explanations offered from the witness box?
Will she agree that, on his stumps, a disabled Mr Pistorius had good reason to behave as he did?
---
What happens next?
•Prosecution to file its written argument to the judge by 30 July
•Defence to file its written argument by 4 August
•Trial resumes on 7 August to hear the final presentations from both legal teams
•Trial will then adjourn to allow the judge and her assessors to consider their verdict
---
Will she put aside all thoughts of his pedantic refusal to take responsibility for the other gun-related offenses for which he is also on trial?
Will she believe him?
Frankly, it is still anyone's guess.
But let me leave you with one final thought.
I have written before about the unknowable mysteries at the heart of this trial.
In the same spirit, I would urge you to embrace, or at least consider, the contradictions that we have heard about Oscar Pistorius.
In the course of the past few months the athlete has been portrayed as a ruthless thug and a sentimental romantic; a responsible role model and a petulant coward; a super-human athlete and a pain-racked wreck; a meticulous planner and an unthinking instinct-follower; a man who is either intensely vulnerable or supremely confident.
It strikes me that these are not contradictions - or at least they are not irreconcilable ones.
The Oscar Pistorius that has emerged in court these past weeks is a complicated, jagged, jigsaw puzzle of a man - a compelling character, worthy of a great novel.
Judge Masipa's unenviable task is not to choose between the "two Oscars" diagnosed by the state psychologist.
Instead, she has the much tougher job of acknowledging those contradictions and looking beyond them towards some approximation of the truth and of justice.