Al-Shabab kills Somali MP in Mogadishu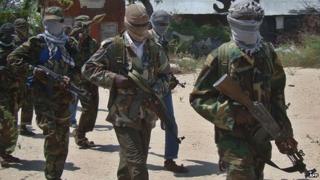 Somalia's militant Islamist group al-Shabab says it has shot dead a prominent MP in the capital, Mogadishu.
Ahmed Mohamud Hayd was killed in a drive-by shooting after he left his hotel in a heavily policed area, witnesses said.
His bodyguard was also killed and a parliamentary secretary wounded in the shooting, witnesses added.
Al-Shabab, which is linked to al-Qaeda, has vowed to step up attacks during the Islamic holy month of Ramadan.
It lost control of Mogadishu to a 22,000-strong African Union (AU) force in 2011, but has continued to carry out bombings and assassinations in the city.
The killing of Mr Hayd - a former army commander and government minister - has shocked many people, the BBC's Moalimu Mohammed reports from Mogadishu.
The shooting was brazen, with gunmen following Mr Hayd and then opening fire on his vehicle.
Al-Shabab spokesman Abdulaziz Abu Musab said the group had carried out the "targeted assassination".
"We will continue to hunt other MPs if they do not leave the apostate organisation [parliament]," he told AFP news agency.
The al-Qaeda-linked group wants to establish an Islamic state in Somalia.