Nigeria's Boko Haram crisis: Deadly bomb hits Maiduguri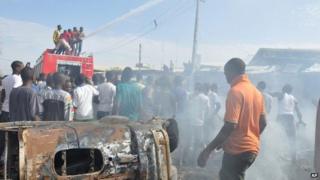 At least 18 people have been killed in an explosion at a market in Maiduguri, north-eastern Nigeria, a medical worker has told the BBC.
The explosives were reportedly hidden in a vehicle carrying charcoal.
No group has said it carried out the attack but Maiduguri is the epicentre of the violent campaign waged by militant group Boko Haram.
Earlier, the Nigerian army said it had broken up a Boko Haram cell linked to the abduction of 200 schoolgirls.
"A van loaded with charcoal and IED [improvised explosive device] exploded at Monday Market in Maiduguri this morning. The location has been cordoned," the defence headquarters said on its Twitter account.
The vehicle exploded into a huge fireball, AFP news agency quotes a witness as saying.
The BBC's Habiba Adamu in the capital, Abuja, says a medical worker has reported that in addition to the 18 killed, 55 people were wounded in the blast.
"I heard a very loud explosion right from my house and rushed to the place," one resident, Babagana Hausari, told the BBC.
"When I got there I saw many people lying after they were hit by explosives," he said.
A suspected suicide bomber carried out the blast, Reuters news agency reports.
Cars and taxis, which were unloading passengers and goods, were wrecked, it says.
"I saw police and troops picking out victims," said Alakija Olatunde, a student who rushed to the scene.
Maiduguri under siege
Former headquarters of Boko Haram
First to be hit by insurgency in 2009
Relative lull in attacks since state of emergency in 2013
Militants control nearly all roads to city
No commercial flights land at airport
University enrolment down from 25,000 to under 4,000 in past year
The city living in fear of Boko Haram
On Monday night, Nigeria's military said it had raided a Boko Haram intelligence unit thought to be linked to the abduction of the schoolgirls in April from Chibok town, also in the north-eastern Borno state.
The cell leader Babuji Ya'ari was arrested, a military statement said.
Mr Ya'ari had been actively involved in the seizure of the girls as well as the killing in May of a traditional leader, the emir of Gwoza, the statement added.
Mr Ya'ari has not yet commented on the allegations.
More than 2,000 people have been killed this year in attacks blamed on Boko Haram militants.
Who are Boko Haram?
Founded in 2002
Initially focused on opposing Western education - Boko Haram means "Western education is forbidden" in the Hausa language
Launched military operations in 2009 to create Islamic state
Thousands killed, mostly in north-eastern Nigeria - also attacked police and UN headquarters in capital, Abuja
Some three million people affected
Declared terrorist group by US in 2013