South Sudan 'most fragile state' in world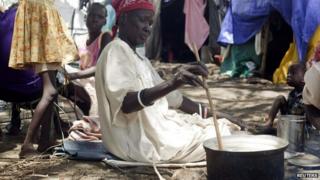 The world's newest country, South Sudan, has topped the list of fragile states in this year's index released by a leading US-based research institute.
Chronic instability, fractured leadership and growing ethnic conflict made it the most fragile state, The Fund for Peace said.
The top six countries on the index are all in sub-Saharan Africa.
Afghanistan was listed as the seventh most fragile state followed by Yemen, Haiti and Pakistan. Syria is 15th.
The institute has been compiling the index for the past 10 years after analysing social, economic and political indicators.
The "most improved" nations in 2014 were Iran, Serbia, Zimbabwe and Cuba, which have all had frosty relations with the US, it said on its website.
In contrast, the US and France were among countries where the situation had worsened the most because of "political and economic malaise".
South Sudan replaced Somalia at the top of the index - a position it had occupied since 2008.
It became independent in 2011 after seceding from Sudan.
More than a million people have fled their homes since fighting erupted last December when President Salva Kiir accused his sacked deputy, Riek Machar, of plotting a coup.
Although South Sudan took first place on the index, the security situation had worsened the most in the Central African Republic (CAR) in 2014, the institute said.
It was "beset by civil war, widespread atrocities, and the deployment of a French-led peacekeeping force", the group said.
Somalia had been knocked off the top of the index because it appeared to be on a "slow trajectory of improvement, so there is cause for some hope", the institute said.
However, the country was still affected by "widespread lawlessness, ineffective government, terrorism, insurgency, crime, and abysmal development", it added.