Somalia's al-Shabab kill AU soldiers in Bulo-burde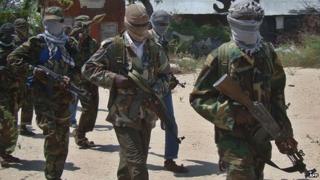 At least two soldiers with the African Union force have been killed in Somalia following an attack on a military base by militant Islamist group al-Shabab.
Gunmen stormed the base in the central town of Bulo-burde, leading to a heavy exchange of gunfire, residents said.
The town has been under siege from al-Shabab since peacekeepers took control of it in March.
The African Union (AU) has a 22,000-strong force in Somalia to help the weak government fight al-Shabab.
The al-Qaeda-linked group wants to establish an Islamic state in Somalia.
Al-Shabab said its fighters had killed six soldiers after raiding the base, which is within a hotel complex in Bulo-burde, some 200km (125 miles) north of the capital, Mogadishu.
However, AU Bulo-burde commander Ibrahim Ali told the BBC Somali Service that the fighting had left five people dead - two soldiers, two militants and a civilian.
The AU soldiers killed were from Djibouti, he said.
Witnesses in Bulo-burde told the BBC Somali Service the battle lasted for about 30 minutes, before the combined force of the AU and Somali army managed to repel the attack.
The BBC's Abdullahi Abdi reports from neighbouring Kenya that al-Shabab has blocked off all roads leading to the town since losing control of it in March.
The AU force can only get its supplies by air and many residents have fled the town and are living on its outskirts, he says.
Bulo-burde is a strategic town, linking Somalia's Hiran and Middle Shabelle regions, and was an important base for al-Shabab for more than five years.
Somalia has seen clan-based warlords, rival politicians and Islamist militants battle for control since the fall of long-serving ruler Siad Barre in 1991.
After a UN-backed government was installed in 2012, a small measure of stability has returned to some areas of the country, but al-Shabab still controls many towns and rural areas of southern Somalia.