Mali unrest: Chad peacekeepers killed in Kidal region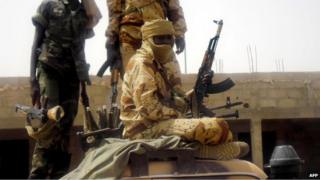 Four UN peacekeepers from Chad have been killed in a suicide attack on their base in northern Mali.
They died when a car packed with explosives was crashed into the entrance of a military base in the town of Aguelhoc.
Aguelhoc is 100km (60 miles) north of Kidal, which rebels last month seized from Mali's army.
Both ethnic Tuareg separatist rebels and al-Qaeda-linked militants remain active in northern Mali.
Troops from France and Mali's neighbours, such as Chad, last year recaptured the region's main towns from the Islamist militants.
UN Secretary-General Ban Ki-moon said the latest attack would not diminish the resolve of the organisation to support Mali.
After last month's fighting in Kidal, three Tuareg rebel groups agreed a ceasefire with Mali's government.