Nigeria Boko Haram crisis: President vows 'total war'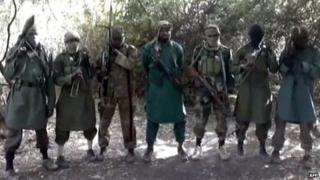 Nigeria's President Goodluck Jonathan has vowed to wage a "total war" against militant Islamist group Boko Haram.
Speaking on the the 15th anniversary of the end of military rule, he said "international terrorism" threatened Nigeria's democratic gains.
Boko Haram has waged an increasingly bloody insurgency since 2009 to create an Islamic state in Nigeria.
Its fighters killed 42 people during a raid on Gurmushi village in the north-east on Wednesday, a survivor said.
Villagers were shot and hacked to death, and many homes were torched, the female survivor, who spoke on condition of anonymity, told BBC Hausa.
Boko Haram has been holding more than 200 schoolgirls captive since last month, demanding a prisoner swap.
Earlier this week, the BBC learned that the government called off a deal to swap some of the girls for Boko Haram fighters in custody.
'Hard-earned lessons'
"With the support of Nigerians, our neighbours and the international community, we will reinforce our defence, free our girls and rid Nigeria of terrorists," Mr Jonathan said, in a televised speech to mark Democracy Day.
He added that he was determined to protect Nigeria's democracy.
"I have instructed our security forces to launch a full-scale operation to put an end to the impunity of terrorists on our soil," he said.
Mr Jonathan declared a state of emergency in May 2013, deploying more troops to the three northern states where Boko Haram is most active - Borno, Adamawa and Yobe.
Boko Haram retaliated by stepping up its bombing campaign in cities and launching mass attacks on small towns and villages.
In a major foreign policy speech on Wednesday, US President Barack Obama said that "no American security operation can eradicate the threat" posed by Boko Haram.
"That is why we must focus both on rescuing those girls, but also on supporting Nigerian efforts to educate its youth," he said.
"Indeed, this should be one of the hard-earned lessons of Iraq and Afghanistan, where our military became the strongest advocate for diplomacy and development," Mr Obama added.
The US, UK, China and France are among those countries to have sent teams of experts and equipment to help to locate the girls.
Nigeria under attack
20 May: Twin bomb attacks killed at least 122 people in the central city of Jos
18 May: Suicide blast on a busy street in northern city of Kano kills four, including a 12-year-old girl
5 May: Boko Haram militants slaughter more than 300 residents in the town of Gamboru Ngala
2 May: Car bomb claims at least 19 lives in the Nigerian capital, Abuja
14 April: Twin bomb attack claimed by Boko Haram kills more than 70 at an Abuja bus station; the same day, the group abducts more than 200 schoolgirls from the remote northern town of Chibok