South Sudan rebel leader Riek Machar in Kenyan talks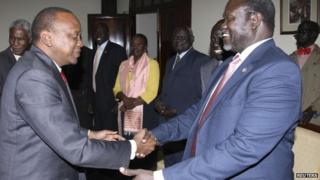 South Sudan's rebel leader Riek Machar has held talks with Kenya's leader in the Kenyan capital, Nairobi.
He was briefing President Uhuru Kenyatta on the latest moves to end the conflict in South Sudan where more than a million people have fled their homes since fighting erupted in December.
He signed a ceasefire agreement with his rival President Salva Kiir earlier this month, but fighting has continued.
Negotiations are aimed at forming a government of national unity.
There are unconfirmed reports that Mr Kiir may fly into Nairobi on Friday for further talks with his former deputy and Mr Kenyatta.
Violence in the world's newest nation broke out in December when President Kiir accused Mr Machar, who he had sacked as vice-president in July, of plotting a coup.
Mr Machar denied the allegation, but then marshalled a rebel army to fight the government.
---
Analysis: Anne Soy in Nairobi
Ethiopia's Prime Minister Hailemariam Desalegn has been tasked by the regional body Igad with personally mediating between President Kiir and Mr Machar. Those talks are have been adjourned until June.
Mr Machar now appears to be trying a different tack by going on a diplomatic mission to see regional leaders. President Kenyatta said South Sudan's former vice-president had briefed him on his meetings with Mr Desalegn. The rebel leader is expected to travel to Khartoum next to meet Sudan's President Omar al-Bashir.
---
Thousands have died in the conflict, which assumed ethnic overtones with Mr Machar relying heavily on fighters from his Nuer ethnic group and Mr Kiir from his Dinka community.
The fighting has left people unable to farm and with little access to food, aid experts say.
Nearly four million people in South Sudan, which seceded from Sudan in 2011, are now at risk of serious food insecurity, according to the UN.