Four policemen killed in attack on Tunisian minister's home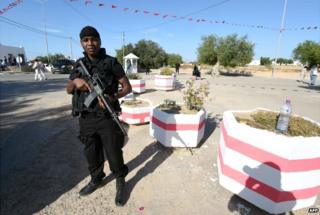 Gunmen have killed four policeman in Tunisia in an attack on the home of a government minister, officials say.
The interior ministry said Lotfi Ben Jeddou was not at his home during the attack in the western Kasserine region.
It is unclear who was behind the attack but correspondents say Tunisia's military have been fighting Islamist militants for several years.
The militant group Ansar al-Sharia was branded a terrorist organisation by the government last year.
"Four police officers were killed and another injured during a terrorist attack with Kalashnikov rifles that targeted the home of the interior minister," a spokesman told the AFP news agency.
One local resident said the gunmen were wearing balaclavas and arrived on a pick-up truck.
Ansar al-Sharia emerged after the 2011 revolution and seeks the implementation of Islamic Sharia law across Tunisia.
Ansar leader Seif Allah Ibn Hussein, also known as Abu Iyadh, is currently in hiding after an arrest warrant was issued for allegedly inciting an attack on the US embassy in Tunis in September 2012, which killed four people.
Insecurity in the North African country has increased since President Zine al-Abidine Ben Ali was ousted in January 2011 at the start of the Arab Spring.
In February, gunmen in western Tunisia killed four people, including two police, after setting up a roadblock and shooting at cars.
Tunisia's armed forces launched a major assault last year in the Chaambi mountains close to the border with Algeria, where Islamist militants had set up camp.
Correspondents say authorities are also concerned about the conflict in Libya, where Islamist militants control large parts of the country, spilling across the border.