Nigeria abductions: How do you negotiate with Boko Haram?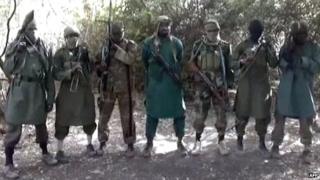 Can - and should - a deal be done with Boko Haram, the militant Islamist group in northern Nigeria that kidnapped more than 200 schoolgirls in April?
Their leader initially announced he would sell the girls into slavery and then offered to trade some of them for militants held in government jails.
Nigeria's response has been equivocal. President Goodluck Jonathan ruled out releasing prisoners, a minister said it was possible to negotiate, and last week the government said "all options are on the table".
So just how do you negotiate with a determined, well-armed and fanatical West African group like Boko Haram?
Keeping calm
The first thing you need to do in a situation like this, says an expert in hostage negotiation (known in the security business as "K&R" - Kidnap and Ransom), is to establish "proof of life".
The footage posted online this week by Boko Haram, showing around 130 of the girls dressed in hijabs, was a proof-of-life video but it did not indicate where or when it was made.
Nor did it explain what has happened to the girls seen in the video or the scores of others taken but not shown.
British risk consultancy firm TerraFirma has been involved in lengthy hostage negotiations in Nigeria on behalf of commercial companies.
According to one of their executives, who asked not to be named, the next most important thing to establish is "proof of ownership".
That means making absolutely certain that the people you are talking to are the ones actually holding the hostages.
In the murky world of kidnap and ransom, there will be plenty of people looking to make some money out of putting themselves forward as intermediaries "with connections".
A third ground rule in the hostage negotiator's metaphorical handbook is to never lose your temper.
"The kidnappers will often lose theirs," says one expert.
"Or at least they will pretend to, to put pressure on you to give in to their demands. But you must never lose yours, for fear you will prompt them to take drastic action."
So how would negotiations work in practice?
"Northern Nigeria is particularly difficult," says the negotiator from TerraFirma.
"Boko Haram and their offshoot Ansarul tend to pick their targets quite carefully and they have plenty of access to weapons."
That makes it probably too dangerous for most negotiators to meet them face to face, even if Boko Haram allowed it.
Building trust
Local religious leaders, who are often called in to help resolve similar standoffs in other countries, are not necessarily an option here since Boko Haram tend to distrust them as having "sold out" to the Nigerian authorities.
Boko Haram at a glance
Founded in 2002
Initially focused on opposing Western education - Boko Haram means "Western education is forbidden" in the Hausa language
Launched military operations in 2009 to create Islamic state
Thousands killed, mostly in north-eastern Nigeria - also attacked police and UN headquarters in capital, Abuja
Some three million people affected
Declared terrorist group by US in 2013
Profile: Boko Haram leader Abubakar Shekau
Why Nigeria has not defeated Boko Haram
More often than not, contact is established by phone. In most cases, TerraFirma says, the hostage-takers will remove themselves some distance away from their captives before speaking on the phone, to avoid giving away their position.
So if negotiations do begin in earnest with Boko Haram, who would conduct them?
The American advisory team now in Abuja includes 16 specialists from the US Department of Defense with expertise in communications and counter-terrorism.
The FBI has also brought hostage negotiators. That does not mean they will be conducting any negotiations, but merely offering discreet advice behind the scenes.
Such is the depth of mutual loathing between Boko Haram and the government of President Jonathan that direct negotiations between them are unlikely to succeed.
One possibility could be to bring in a representative from a neighbouring country like Cameroon, Niger or even somewhere further afield like Turkey or Qatar.
Paying a ransom?
But negotiating with Boko Haram comes with a heavy price. The group will want substantive concessions, which the Nigerian government is reluctant to give.
Both the US government and the UN have been actively discouraging governments from paying ransoms to proscribed terrorist groups.
The US State Department designated Boko Haram a "foreign terrorist organisation" in 2013, two years after it carried out a suicide bomb attack on the UN building in Abuja.
And if negotiations are out of the question? Inevitably, thoughts will turn to the possibility of some kind of military rescue but this would be fraught with problems.
For a start, the numbers are huge: More than 200 schoolgirls have been taken. They are likely to now be dispersed in small groups over a wide area and guarded by heavily armed militants who would have little hesitation in killing them if they looked likely to escape.
A complex rescue
"There are similarities here to Operation Barras in Sierra Leone," says a former British SAS officer with experience in counter-terrorism.
Barras was a successful Special Forces mission in 2000 to rescue a number of British soldiers captured by the West Side Boys rebel group.
The SAS officer said the tree-covered terrain in Sierra Leone was similar to northern Nigeria, and made it hard to approach undetected and hard to insert technical surveillance equipment.
"Any operation to rescue the girls by force would have to take place simultaneously in several locations or else the militants will panic and execute their hostages."
He said this type of hostage rescue "was highly complex and the Nigerians do not yet have a well-developed capability in this area".
The current options
So as it stands, unless Boko Haram lowers its demands, this crisis presents the Nigerian government with three unpalatable and unsatisfactory choices:
It gives in to Boko Haram's demands, releasing dangerous men from prison and freeing them up to rejoin its ranks and potentially carry out more raids. This would be seen as capitulation by many and a sign of weakness.
It mounts a military rescue operation, which carries no guarantee of success and a high risk of turning into a bloodbath.
It postpones any action in the hopes that world attention moves elsewhere, then either ignores the issue, leaving the girls to their fate, or cuts a discreet deal with their captors.