South Sudan's elections postponed, says President Kiir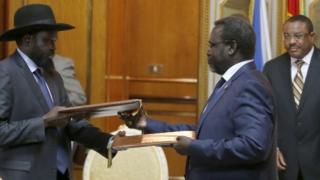 South Sudan has postponed presidential elections due next year to give government and rebel forces more time to achieve reconciliation, President Salva Kiir has said.
Mr Kiir and rebel leader Riek Machar signed a ceasefire deal on Friday to end conflict that erupted in December,
He said an interim government would run South Sudan until elections are held in 2017 or 2018.
Thousands of people have been killed in the fighting.
The UN has accused both sides of crimes against humanity, including mass killings and gang-rape.
South Sudan is the world's newest state, becoming independent in 2011 after seceding from Sudan.
Fighting broke out in December after Mr Kiir accused Mr Machar, his sacked deputy, of plotting a coup.
'Extensive shelling'
Mr Machar denied the allegation, but then marshalled a rebel army to call for the overthrow of the government.
Mr Kiir and Mr Machar signed a peace deal in Ethiopia on Friday. It was their first meeting since the conflict erupted.
Both sides have accused each other violating the truce - the second ceasefire agreement since fighting broke out.
On Monday, rebel spokesman Lul Ruai Koang said government troops had recaptured the oil hub of Bentiu, where an ethnic massacre took place last month, after "extensive shelling" of villages around the town.
Mr Kiir was "acting with impunity", he said, Reuters news agency reports.
Earlier Mr Machar told the BBC's HARDTalk programme that despite accusing the government of violating the ceasefire, he wanted further "dialogue" with his rival.
Military spokesman Philip Aguer said there had been no fighting in South Sudan on Monday.
The government had earlier accused rebel forces of flagrant violations of the ceasefire deal.
The battle between Mr Kiir and Mr Machar has assumed ethnic overtones, with Mr Machar relying heavily on fighters from his Nuer ethnic group and Mr Kiir from his Dinka community.
The UN says hundreds of non-Nuers were killed in Bentiu last month when rebel forces captured the town.
The UN has about 8,500 peacekeepers in South Sudan. However, they have struggled to contain the conflict.
At least 1.5 million have been displaced by the conflict.