South Africa election: DA's Zille denies Mazibuko rift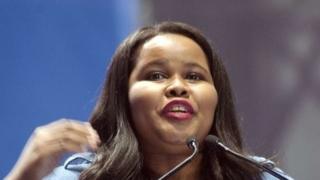 South African opposition leader Helen Zille has denied that her party's most senior black leader in parliament has quit because of differences with her.
Lindiwe Mazibuko, the Democratic Alliance's (DA) parliamentary leader, said she was going to study in the US.
Ms Mazibuko differed sharply with Ms Zille last year over whether the DA should support affirmative action.
The party got 22% of the vote in May's general election, the first since the death last year of Nelson Mandela.
He was elected the South Africa's first black president in the country's first democratic polls 20 years ago.
The governing African National Congress (ANC) won with 62% of the vote - its fifth consecutive victory since black people obtained the vote in 1994, ending white minority rule.
'Saddened'
Ms Mazibuko was elected DA parliamentary leader in 2011, making her the first black person to hold the post. Ms Zille remained party leader.
South Africa's Times reports that Ms Mazibuko told the newspaper that she was quitting parliament before informing Ms Zille.
Ms Zille said she was saddened by Ms Mazibuko's decision, but "sometimes in one's career one must take time out to consolidate oneself and one's skills".
The two had a big row in November after DA MPs voted in favour of the government's affirmative action policies, in defiance of Ms Zille, local media reports.
Correspondents say Ms Mazibuko is likely to be succeeded by another black person, Mmusi Maimane, who is said to be Ms Zille's favourite for the position.
He failed in his bid to become the premier of South Africa's richest province, Gauteng, but helped the party to significantly reduce the ANC's majority there.
Ms Zille denied the party had shifted its focus towards Mr Maimane.
"The bottom line in the DA is that we don't gate keep talented people out of the party. We do everything we can to get more and more excellent people into the party," she is quoted by the national broadcaster, SABC, as saying.
The DA obtained about 6% of the black vote, local media reports.
Johannesburg-based analyst Adam Habib told SABC that the DA's challenges go beyond Ms Mazibuko's move.
"The DA has to start asking itself does it want to be a party of minorities of the future or does it want to constitute a real majority," he is quoted as saying.
Ms Mazibuko denied that her relationship with Ms Zille was strained, and said she remained loyal to the DA.