South Sudan: UN pushes for food aid after peace deal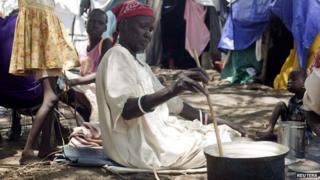 Both signatories to a peace deal in South Sudan have been urged to permit shipments of food aid to reach a population in danger of mass hunger.
Toby Lanzer, the UN's top aid official in the region, said roads and rivers must be opened for emergency relief.
South Sudan's President Salva Kiir and rebel leader Riek Machar agreed a pact on Friday, after a five-month conflict that has displaced 1.5 million people.
Their truce, the second attempt of its kind, comes into force on Saturday.
The previous deal, struck in January, collapsed within days, with both sides accusing each other of restarting the fighting.
As well as an immediate end to hostilities, the latest agreement envisages the creation of a transitional government ahead of the drafting of a new constitution and fresh elections.
The rivals signed the deal in the Ethiopian capital, Addis Ababa, late on Friday, after their first face-to-face meeting since the hostilities began in December.
With many details of the deal yet to be worked out, officials caution that a lasting peace may still be some way off.
South Sudan is the world's newest state, as well as one of its poorest.
The UN estimates that some five million of its citizens are in need of urgent humanitarian aid.
In a message on his twitter feed, Mr Lanzer welcomed the new agreement and called on both sides to permit the movement of truck convoys and river barges carrying emergency relief.
Asked what was the likelihood of this happening, he told the Associated Press news agency that the result so far was better than many would have expected.
Aid officials have warned of mass hunger if the displaced are not allowed to return to their homes and plant crops in time for the arrival of seasonal rains in June.
A statement from the UN's food agency, the Food and Agriculture Organisation (FAO), says one-third of South Sudan's population is facing "emergency levels of food insecurity", with some areas of the country also at risk of famine.
Ethnic overtones
Mr Kiir and Mr Machar are expected to issue immediate orders for troops to end combat and to allow in humanitarian aid.
It was not immediately clear who would form the transitional administration mentioned in the deal.
African Union official Smail Chergui warned that "given the current crisis, the restoration of peace in South Sudan will not be easy".
The UN has accused both the South Sudanese government and the rebels of crimes against humanity, including mass killings and gang-rape.
The violence began when President Kiir accused his sacked deputy Mr Machar of plotting a coup.
Mr Machar denied the allegation, but then marshalled a rebel army to fight the government.
The battle assumed ethnic overtones, with Mr Machar relying heavily on fighters from his Nuer ethnic group and Mr Kiir from his Dinka community.
The UN has about 8,500 peacekeepers in South Sudan. However, they have struggled to contain the conflict.
South Sudan gained independence in 2011, breaking away from Sudan after decades of conflict between rebels and the Khartoum government.