Letter from Africa: Signs of our times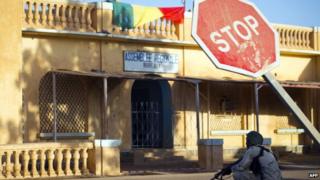 In our series of letters from African journalists, broadcaster and media trainer Joseph Warungu considers what public signs say about African societies.
I recently stopped at a small restaurant in the Kenyan capital, Nairobi, for a quick refreshment before rushing back to the office and was amazed by the array of rules that I and other customers had to obey.
The instructions posted on big notices at each table included:
"Strictly no idle sitting here"
"No sharing of food or drinks"
"Maximum sitting time allowed is 20 minutes".
This got me thinking about public communication in Africa - especially signs and notices - and what it says about our different societies.
I believe that words are a window into our soul. What we say and how we say it reflects who we are and our experiences.
I travel quite a bit around Africa on media training assignments or to chair public debates.
As a communication specialist I am usually fascinated by the way the different communities I visit communicate with themselves.
Tanzanian courtesy
In Kenya, and Nairobi in particular, life moves at a very fast pace.
Survival is everything and most people are ruthlessly focused on finding the next shilling.
Public notices too are to the point and abrupt.
"Usikojoe hapa" is one Swahili sign you might come across in many parts of Kenya.
It is Swahili for "do not urinate here".
There is no time for fancy words like "relieving yourself".
But that is partly because it is not uncommon to see a man stop by the side of a busy road, and in full view of everyone, unfetter his earthly possession and unleash a spray that was intended for the toilet.
In Tanzania, on the other hand, public communication is polite and friendly.
They call it "uungwana" or "ustaarabu" - Swahili for "civilized".
Society there has time for people.
I remember being arrested on a BBC assignment in Zanzibar some years back, shortly after interviewing opposition supporters.
The words of the two plainclothes police officers were laced in civility and humility, although their eyes left me in no doubt at all that I had to accompany them to the police station.
I know of many African countries where you only realise that a notice of arrest has been communicated to you when you start "flying": A strong hand grabs you by the seat of your trousers and lifts you up, leaving your legs cycling in the air like a cartoon character as you are shoved into the police van.
Corruption-designated areas?
While on a media training exercise in Zambia recently, I came across an interesting public notice in the form of a mission statement at one FM radio station.
Some of the resolutions stated:
"We will not script answers for guests"
"We will not broadcast fake phone calls, emails or text messages under any circumstances"
"We will be courteous and respectful".
I know Zambians to be not only friendly and welcoming but also brave.
Having witnessed and reported on political protests in Lusaka in the early 1990s as Zambians fought for multiparty democracy, I was not surprised to read this notice that boldly acknowledges and attempts to tackle some of the problems that afflict our journalism today.
This reminds me of another sign that I have seen around many public offices in Cameroon and other countries: "This is a corruption-free zone".
It always leaves me wondering. Are there corruption-designated areas?
I travel to Nigeria every now and then and I am always amused by some of the public notices outside people's homes, reading: "This land/house is not for sale".
When I asked a Nigerian friend why one would need to put up such as sign outside the home they have lived in for many years, the answer was direct.
"You might wake up one morning and find someone busy selling your property to a willing buyer, complete with a title deed."
Toilet wisdom
Earlier last month in Mexico, where I was chairing a panel discussion at the Global Partnership for Effective Development Co-operation conference, I was on the lookout for interesting signs.
My own hotel did not disappoint me.
A screaming neon sign at the lobby assured me that even in poverty, the hotel would accept me: "In this establishment we do not discriminate due to race, religious beliefs, sexual orientation, disability, economic condition, or any other reason.
Back to our continent and South Africa is another of my frequent destinations.
As if aware of my penchant for how we communicate with the public through signs and announcements, Rhodes University in Grahamstown served me a feast - in the toilet.
One of the men's toilets was plastered from ceiling to floor with all manner of notices in the form of witty quotes on media.
Whether standing or crouching, your mind was refreshed with loo wisdom.
One of my favourite was a quote from the US politician Adlai Stevenson: "An editor is one who separates the wheat from the chaff and prints the chaff."
For obvious reasons I did not go to the ladies toilets to see what they were seeing.
What interesting public signs and notices have you seen? Please share.
If you would like to comment on Joseph Warungu's column, please do so below.