Libyan barracks in Benghazi hit by car bomb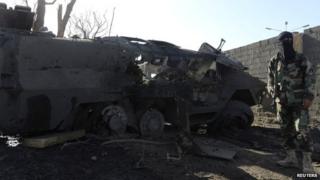 A car bomb has exploded at the gates of a military barracks near the airport in the Libyan city of Benghazi, killing two soldiers, security officials say.
Two other soldiers were wounded in the explosion.
It appeared to have been carried out by a suicide bomber, an unnamed army officer told the AFP news agency.
There has been a severe deterioration in security in Libya since the 2011 uprising which ousted long-time leader Muammar Gaddafi.
The government has been struggling to control and disarm the numerous armed groups and militias who took part in the civil war which ended his 42-year rule.
Benghazi, the cradle of the revolution, has been a focal point for attacks on public institutions and officials.
It is the largest city in eastern Libya, where some groups and Islamist militias want more autonomy and a greater share of the region's oil wealth.
No group has claimed responsibility for the early morning attack at the Special Forces barracks.