Letter from Africa: My lady and the athlete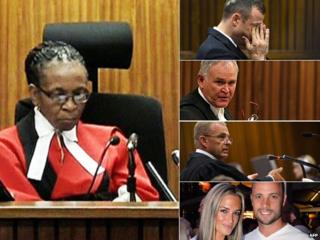 In our series of letters from African journalists, filmmaker and columnist Farai Sevenzo considers what the athlete Oscar Pistorius' murder trial reveals about how South Africa has changed since white minority rule ended 20 years ago.
"Yes, my lady. No, my lady. I don't know, my lady. I'm not sure, my lady. I'm not tired, my lady. Yes, my lady."
There is hardly a person on the planet at the moment who does not know where these words come from and just who has been uttering them so meekly and to whom they were addressed.
It is 20 years since the demise of apartheid in the statute books, and those historic elections in which black men and women joined people with other skin colours and snaked their way around polling booths to deliver Nelson Mandela as the first black president of South Africa.
'Soap opera'
But for now, anniversaries must give way to the far more addictive spectacle of a world-renowned athlete, accused of murdering his girlfriend Reeva Steenkamp on 14 February last year, facing South African lawmakers in the full view of the world's media.
The world at large has been drawn to Mr Pistorius' murder trial these past two months.
A quick scan of all the news websites will tell you that while the search for the missing Malaysian airliner and the Russian annexation of Crimea or even the on-going bloodletting in the Central African Republic (CAR) and the kidnapping of scores of schoolgirls by militants in Nigeria have warranted headlines, the one constant news story was the fate of the Olympian.
From Pretoria to Paris to Penalonga, everyone knew what he had done and it was impossible to avoid the soap opera of Mr Pistorius' trial.
But there were always two distinct camps - in one camp were those who were happy with the cameras' inclusion and the dripping feeds via social media of what the athlete was doing, whether his head was lying on his aunt's handbag, how were the dead girlfriend's family reacting, was the athlete acting, and on and on their conversations were fed by the endless interest.
In the other camp, many were irritated with the whole sad spectacle of this public prying and were losing patience at the sight of the grown man sobbing and puking into a green bucket and the endless string of "foreign correspondents" interpreting his every sigh and just stopping short of taking a reading of the man's vomit to determine murderous intent.
"I shook his hand," they gushed, and "he said he wasn't well".
'Zombie stoppers'
The real drama of Mr Pistorius' trial, to those who know South Africa, is the demarcation of lives.
This packed court with its legal gladiators defending and prosecuting a global star who killed a beautiful blonde model in a gated community is fascinating because of the skins involved, and their hidden lives.
They are lives of independent means, international travel, private schools, and shooting ranges where guns with bullets known as "zombie stoppers" ripped open watermelons.
These were also lives moulded from the remnants of a society long remodelled from the scars of apartheid.
Those dedicated or addicted to the Oscar Trial TV Channel are fighting daily inner battles over whether to believe the free flowing tears they see before them every day - or all that desperate retching - they strain for meaning in the very public death of a beautiful daughter, they want to feel a part of the anguish which they can never really feel and tune in every day to fine tune their own emotions over every accusation over every denial.
And opinion, should it ever be accurately measured, finds the public across five continents deeply divided so much so that as May finds us going for the final stretch in the trial there are those who say the athlete could not have meant to kill, that his ownership of guns and dangerous armour (which alone could get him 15 years according to South African law) was as accidental as the homicide.
And so folk in offices from Lilongwe to London are said to be placing bets on the length of time Mr Pistorius is likely to do when the case ends.
His fate, of course, lies in the 66-year-old hands of the woman he has been calling "my lady" - Judge Thokozile Masipa - who is presiding over this trial with all the historical ironies on view.
She alone, born a year before apartheid became law in South Africa in 1948 and a lawyer by the time Mr Mandela was released in 1990, will decide what the evidence says about this famous white man and the events of Valentine's Day 2013.
And her presence in that court is the finest measure of how far this land once full of maids, garden boys and institutional racism has come.