South Africa election: Stay connected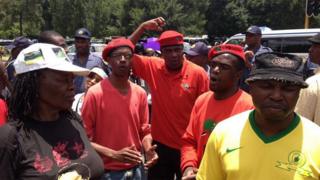 South Africans will be going to the polls on Wednesday 7 May to vote in the country's election.
Freedom Day on Sunday 27 April will mark 20 years since the end of apartheid in South Africa.
It will be the first time that "born-frees", or South Africans who were not alive during the apartheid era, will have the opportunity to vote.
We would like to hear your views about the issues that matter to you in the run up to May's election on BBC News on the following platforms.
Connect with our new phone app which is available until the end of the election:
Mxit:
Add 'bbcnewssa' as a contact for updates and the chance to have your say on key election issues.
You can also follow election news via BBC News on social media:
Facebook:
Twitter:
Google+:
And for the latest BBC News coverage online, visit: bbc.com/africa