Oscar Pistorius trial: Week six round-up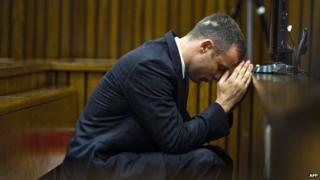 Oscar Pistorius ended seven days of emotional testimony in the murder trial of his girlfriend this week, which included him reading aloud to the court a Valentine's card from Reeva Steenkamp.
The forensic tests carried out by expert Roger Dixon, detailing the sequence of shots fired, were also challenged by state prosecutor Gerrie Nel. The trial has now been adjourned until 5 May.
Here is how our reporters covered the big moments, via tweets and video reports, in the fifth week of the trial.
Day 21
Day 22
Day 23
Day 24