South Sudan conflict: Pro-Machar forces 'seize' Bentiu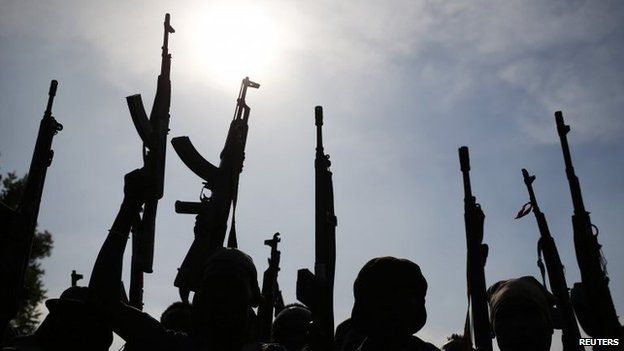 Rebel forces in South Sudan have recaptured the oil hub of Bentiu from the government, their spokesman says.
Oil companies should halt operations immediately and evacuate their staff within a week, Brig Gen Lul Ruai said.
An army spokesman denied Bentiu had fallen, saying fighting was continuing.
The two sides have repeatedly accused each other of violating a ceasefire signed in January.
More than one million people have been displaced in the conflict, which broke out about a month earlier after South Sudan's President Salva Kiir accused his sacked deputy Riek Machar of plotting a coup.
Mr Machar denied the allegation, but then launched a rebellion to overthrow Mr Kiir.
His forces took control of Bentiu, capital of Unity state, soon after the conflict started. However, government forces drove the rebels out of the the city on 10 January.
Unity state is rich in oil, the main foreign exchange earner of South Sudan. Oil production in South Sudan dropped by 20% after the conflict started.
China and Russia are among the major investors in South Sudan's oil industry. Brig Gen Lul Ruai warned firms not to defy the order to shut operations.
Otherwise, they risked a "forced oil shutdown and the safety of their staff", he said.
A UN official in South Sudan, Joe Contreras, said Mongolian peacekeepers had on Monday rescued 10 staff members from the Russian oil company Safinat just north of Bentiu, Associated Press news agency reports.
Two of the five wounded were in critical condition, he said.
The UN has around 8,000 peacekeepers in South Sudan, including a base in Bentiu where thousands of people have taken refuge since fighting broke out in December.
South Sudan's military spokesman Col Philip Aguer said heavy fighting was continuing for control of Bentiu, AFP news agency reports.
"The rebels have tried to penetrate one part of the town but are being held back," he told AFP.
Of the more than one million people displaced by the conflict, 803,200 are taking shelter within the country and another 254,000 have fled to neighbouring countries, according to a UN report released last month.
South Sudan seceded from Sudan in 2011 after a long and bloody conflict, to become the world's newest state.
Related Internet Links
The BBC is not responsible for the content of external sites.