Oscar Pistorius trial: Week five round-up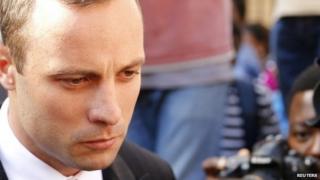 Oscar Pistorius's murder trial resumed this week after a 10-day break with the Paralympian finally taking to the stand.
For two days he gave emotional testimony responding to questions from his own lawyer Barry Roux. Then prosecutor Gerrie Nel began his interrogation of the athlete, who denies deliberately killing his girlfriend Reeva Steenkamp in the early hours of Valentine's Day last year.
Here is how our reporters covered the big moments, via tweets and video reports, in the fifth week of the trial. You can follow the coverage next week via our correspondents in Pretoria on Twitter here.
Day 16 - Monday 7 April
Day 17- Tuesday 8 April
Day 18 - Wednesday 9 April
Day 19 - Thursday 10 April
Day 20 - Friday 11 April
Pistorius trial: Week four round-up
Pistorius trial: Week three round-up
Pistorius trial: Week one round-up