British and French UN workers killed in Somalia named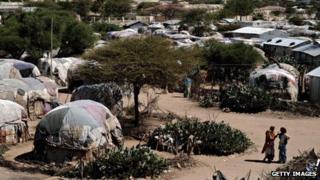 The UN has identified two of its workers killed in Somalia on Monday as UK citizen Simon Davis and French citizen Clement Gorrissen.
Mr Davis, 57, and his colleague Mr Gorrissen, 28, were shot after getting off a plane at Galkayo airport.
The attacker was dressed in a police uniform, an airport official said.
A UN official called the men "two of the finest examples of the many dedicated colleagues we are fortunate enough to have".
Mr Davis was a specialist in investigating money laundering who had a "long and distinguished career" with the Metropolitan Police, the UN said.
He joined the United Nations Office on Drugs and Crime (UNODC) in 2012.
Mr Gorrissen first worked for UNODC in 2010 and was involved in operations in the Horn of Africa.
John Sadage, director of UNODC's Division of Treaty Affairs, called the pair "irreplaceable" and said they were experts in a complex field.
'Brutal murders'
The militant al-Qaeda-linked al-Shabab militia, which is battling the Somali government, celebrated the attack but refused to confirm or deny that it carried it out.
"UN organisations are always the enemy of Islam," it said.
UK Foreign Secretary William Hague said: "I condemn these brutal murders in the strongest terms".
Mr Hague said the men had been helping to "deliver a better future for Somalia" and that he wanted the Somali authorities to "urgently investigate these murders" to bring the perpetrators to justice.
Galkayo lies 356 miles (574km) north of the capital Mogadishu on the border with the semi-autonomous state of Puntland.
The region has become synonymous with piracy in the seas around Somalia, particularly in the Gulf of Aden.
It is home to many Somalis displaced by violence in the south, with some attempting to make the sea crossing to Yemen.