Oscar Pistorius 'besotted' with Reeva Steenkamp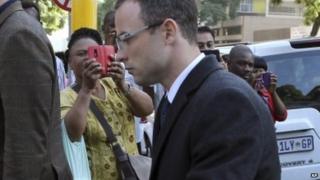 South African athlete Oscar Pistorius has said he was "besotted" with his girlfriend Reeva Steenkamp, as he gave evidence at his murder trial.
He cried when describing Valentine's Day gifts they were to give each other.
He also denied the allegation made by other witnesses that he had fired a gun through a car sunroof.
The athlete denies deliberately shooting dead Ms Steenkamp in his home on Valentine's Day last year, arguing he mistook her for an intruder.
On his first day on the stand, he made a tearful apology to Ms Steenkamp's family.
If found guilty, the 27-year-old athlete could face life imprisonment.
He also faces charges of illegally firing a gun in public and of illegally possessing ammunition, which he denies.
There are no juries at trials in South Africa, and his fate will ultimately be decided by the judge, assisted by two assessors.
'Bad hour'
The courtroom is packed for the second day of Mr Pistorius' testimony, which is not being filmed.
Responding to his questioning by his lawyer Barry Roux, he said that in January 2013: "I was very keen on Reeva. If anything I was more keen than she was."
He said they had a shared interest in cars and had spent Christmas together after meeting on 4 November 2012.
"I let her just take her space - it wasn't always easy, I was besotted with her... the relationship built up to a point in December, January that we really... started caring about each other.
"We were talking about our future together, including moving to a new place in Johannesburg together."
He shot her dead on 14 February 2013.
Mr Roux has also asked him to comment on "tensions" in their relationship and on Whatsapp messages describing several rows the couple had in the weeks leading up to the shooting.
Mr Pistorius cried and frequently paused, his voice quivering, as he read the couple had exchanged during their three-month relationship.
The BBC's Pumza Fihlani in court says Mr Roux is trying to show that the two had a loving relationship, in an attempt to undo the damage caused by a couple of messages, which show the couple arguing, including one in which Ms Steenkamp wrote: "I am scared of you sometimes".
"I just think it was a bad hour in our relationship," he said about one argument.
When Ms Steenkamp had started talking to another man at an event without introducing him, Mr Pistorius said: "I was a bit upset, I felt neglected... I was being sensitive, insecure... I wasn't kind to her like I should have been."
Ms Steenkamp's mother, June, watched intently as Mr Pistorius spoke about how they overcame their arguments.
He explained how the couple met on 4 November through a mutual friend at a car event and she had later agreed to accompany him that evening to the SA Sports Awards as he did not have a date.
After this, they became close but Ms Steenkamp started receiving hate mail on Twitter for dating him, he said.
The athlete said he believed his ex-girlfriend Sam Taylor had set up fake social media accounts to attack her.
He said he split up with Ms Taylor after she was unfaithful to him while away he was at the Olympics in London.
After denying shooting his gun through a car sunroof, he described the incident in a restaurant when a gun he was holding went off accidently.
He said he was angry with his friend Darren Fresco for handing him a loaded gun - and he said Mr Fresco offered to take the blame and continued to do so.
Mr Pistorius apologised to the restaurant owner, saying it was his fault and he would pay for any damage.
Before Mr Pistorius' appearance, the trial had already heard 15 days of prosecution-led testimony, which relied on accounts from neighbours and specialist ballistics experts, as well forensic and mobile phone evidence.
One neighbour, Michelle Burger, told the court she was awoken by a woman's "terrible screams" followed by gun shots.
The athlete aims to convince the court that the screams were his, and that he shot Ms Steenkamp through a closed toilet door because he had mistaken her for an intruder.
The defence is also likely to address key questions, including allegations that Mr Pistorius was reckless with guns and in not checking the whereabouts of his girlfriend before he opened fire.
Ms Steenkamp, a 29-year-old model, reality TV celebrity and law graduate, was hit by at least three bullets while in the toilet cubicle of Mr Pistorius' home in Pretoria.
Mr Pistorius is a double amputee who holds six Paralympic medals and competed in the 2012 Olympic Games.