Guide to Nigeria's Afrobeats stars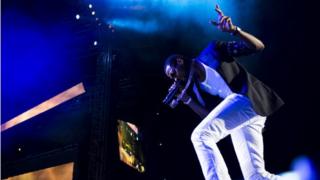 Nigeria is now the most exciting place for music in Africa, with artists such as WizKid, Ice Prince, D'Banj, 2Face Idibia and P-Square, dominating continental music awards.
They attract huge crowds across Africa, as well as Europe and the US. Kanye West and Tinie Tempah, whose family comes from Nigeria, follow the scene closely and have signed Afrobeats stars to their labels.
The new generation draws on Nigeria's rich musical heritage - such as Fela Kuti - but they have taken his charisma and showmanship and added their own swag to make it more relevant to young people.
Here are some of Nigeria's biggest and newest talents, who took part in a special week of programmes on Radio 1Xtra and Focus on Africa TV:
Wizkid
WizKid is like Africa's answer to Justin Bieber. He's young, popular and connects with the young audience. He was the first African artist to get one million followers on Twitter and he has the perfect blend of music, image and persona, making him a really balanced artist, at a very young age. He tells me what it was like to perform on stage for the first time.
Eva Alordiah
Eva Alordiah is sexy, sassy and when you first come across her you'd think she would be an R'n'B singer, but she's actually a rapper. She's quite new and brings freshness to the scene, speaks about subjects relevant to young Africa, has a loyal following and I expect big things from her. She performs a "freestyle" - ad-lib rapping to a beat - exclusively for the BBC.
2face Idibia
A veteran of the scene, 2face Idibia reminds me of Usher, who has been in the game for a long time but is still current and relevant. He can be credited as one of the first African artists to break out of the Afrobeats scene with his song "African Queen". He tells me about the influences on his career.
Inua Ellams
Inua Ellams is someone who I have only come across recently. He calls himself a "word and graphic artist". I was really intrigued with his delivery and I really connected with his words, he definitely has something to add to the art of poetry. He performs his poem Fragments of Bone - about sectarian violence in Nigeria.
M.I.
M.I. aka Mister Incredible. He is a rapper from Jos, home to Nigeria's biggest hip-hop scene. He's very clever with his lyrics, they're thought-provoking and witty. He's easily one of the top rappers in Africa and has inspired so many young people. He performs a freestyle for the BBC.
DJ Edu presents Destination Africa on Radio 1Xtra every Sunday, from 22:00 to 02:00.
On Sunday 30 March, he is presenting a special five-hour programme based on his trip to Lagos, starting at 21:00 BST (20:00 GMT).