Charles Ble Goude: Ivory Coast's 'street general'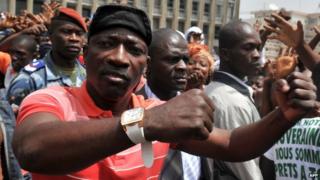 Charles Ble Goude, cited as a "key figure" in the Ivory Coast crisis by the US-based campaign group Human Rights Watch (HRW), is known as the country's "street general".
He is now at the International Criminal Court on four charges of crimes against humanity.
The 42 year old began his political career during his student days at the University of Cocody in Abidjan, where he soon became known for his fiery, passionate speeches denouncing colonialism.
Mr Ble Goude had charisma, style and could evoke emotion like a preacher in front of his congregation.
A fluent English speaker, he went on to study at Manchester University in the UK before returning to Ivory Coast when fighting broke out in 2002 after a failed coup.
He was head of the Pan-African Congress of the Young Patriots (COJEP), a youth movement that he allegedly turned into a militia group allied with then-President Laurent Gbagbo.
'Whipping up hatred'
He could mobilise people onto the streets in a flash, stirring up the crowds with his anti-French rhetoric, accusing the former colonial power of trying to topple Mr Gbagbo.
After the coup, the country was split in two; the rebel-controlled north and the government-controlled south. It added fuel to Mr Ble Goude's fire.
The people of the north, many of whom trace their origins to neighbouring Burkina Faso and Mali, became more of a focus in his speeches.
Mr Gbagbo took advantage of Mr Ble Goude and his huge following to whip up hatred for all foreigners, not just the French.
Burkinabes and Malians, who had lived in Ivory Coast for decades, and who were the backbone of the country's cocoa economy, were soon among their enemies.
Attacks were common. One of Mr Gbagbo's main rivals, Ivory Coast's current President, Alassane Ouattara, who enjoyed considerable support in the north, had already been barred from running in the elections because his father came from Burkina Faso.
Mr Gbagbo had disputed the authenticity of his Ivorian nationality.
In 2004, violent anti-French protests erupted after the French army launched a military air-strike in retaliation for an attack on one of its bases in Bouake in the north which killed nine French soldiers.
It led to a mass exodus of French expatriates, strengthening Mr Ble Goude's anti-French rhetoric, but he insisted it was only the French soldiers they were angry at.
"We have no problem with the French civilians here in Ivory Coast," he told the BBC at the time.
Mr Ble Goude also denied wanting all foreigners out.
"We want the UN peacekeeping force to stay here; the Bangladeshis, the Moroccans, all the other forces," he said.
'Terrified'
"There is a difference between la Force Licorne Francais [the French force deployed in Ivory Coast] who steal and kill and the UN peacekeepers who we want to stay."
BBC Afrique's Valerie Bony recalls being at one of his mass rallies at the Champroux stadium in the Kumasi district of Abidjan in 2006.
The crowd started to get angry, pushing and shoving her as she tried to get out.
They saw her as a foreigner, working for a foreign media organisation and therefore their enemy.
She was terrified, saying: "This was it. I thought I was dead."
Valerie was with the BBC's James Copnall and two of Mr Ble Goude's bodyguards when the crowd began to descend on her, pulling at the bodyguards to get through to them.
"I really thought they were going to kill me," she said.
'Crescendo of clapping'
But then suddenly people started to pull back. Mr Ble Goude, standing on the stage, had seen what was going on.
He knew Valerie as she had interviewed him many times.
"These are my friends," he called out on the microphone to the mass of people.
"Please clap her. I want you to clap for her," he demanded.
And with that, the crowds moved away from Valerie and the stadium erupted in a crescendo of clapping.
This incident illustrates the total control Mr Ble Goude had over his young supporters.
He was educated, charming and eloquent but managed to unite followers from all backgrounds.
Unemployment, saddled with extreme disillusionment and anger, ran high - Mr Ble Goude became a man who held a promise to get the young people out of this situation.
That same year, he was placed under United Nations sanctions for his repeated anti-foreign statements.
Imprisoned
He began to keep a lower profile, moving around West Africa until 2007, when he started to re-shape his public image.
He launched a national tour, a "peace caravan" visiting towns across the country calling for reconciliation between rebel and government supporters, acting more like a statesman than a fiery youth leader.
In the November 2010 presidential election, before the UN declared Alassane Ouattara the winner, Mr Gbagbo claimed the presidency and named Mr Ble Goude as his Youth and Sports Minister.
But then, for the second time, the country erupted in fighting - a war that claimed the lives of more than 3,000 people.
Mr Gbagbo was eventually captured in April 2011 and later arrested by the ICC.
Mr Ble Goude fled Ivory Coast the day before Mr Gbagbo's capture, fleeing to Ghana by road where he lived in hiding for almost two years.
In October 2012, the ICC issued an arrest warrant for him in relation to charges connected to the post-election violence in 2011.
He was eventually tracked down by Ghanaian authorities in the port city of Tema, 25km (16 miles) east of the capital, Accra, and was kept in an undisclosed Ivorian prison until he too was finally handed over to the ICC this month.
His wife and child remain in Ivory Coast and he denies all charges against him.