Kenya church raid: Satrin Osinya flown to Nairobi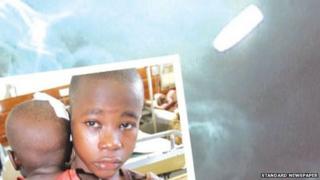 An infant who had a bullet lodged in his brain during Sunday's attack on a church near Kenya's coastal city of Mombasa has been flown to the capital Nairobi for specialised treatment.
The bullet will be removed from the 18-month-old boy once the wound heals, a neurosurgeon told the BBC.
Doctors believe the bullet which killed his mother while she was shielding him exited her body and buried itself in his head.
Six people died in the attack.
No group has said it carried out the raid, but officials have blamed Somali Islamist militants for similar attacks.
Satrin Osinya was accompanied by his father when he was flown by the emergency services for treatment at Nairobi's main medical facility, the Kenyatta National Hospital, the BBC's Idris Situma reports from the city.
Neurosurgeon Mwangi Gichuru said the infant was in a "very, very stable condition, neurologically".
'Escaping on foot'
"By that I mean he's able to cry to me [and] he's able to answer to some commands," Dr Gichuru told BBC Focus on Africa.
"I've examined his eyes. They seem to be functioning well," he added.
However, the boy's brain was swollen, and he will be operated on within the next two weeks, once the wound is cleaned and has healed, Dr Gichuru said.
"If I go in right now to remove the bullet, yes, I'll get out the bullet, but I will leave the brain very, very much damaged."
The infant had been admitted to a hospital in Mombasa after the shooting which left his mother dead.
Its medical staff said he had been in great pain and he had not slept on Monday night, Kenya's privately owned Standard newspaper reports.
Kenyan police say the attack on the church in Likoni could have been an "act of terrorism".
At least two gunmen burst into the church and started shooting indiscriminately.
The attackers managed to escape on foot before the police arrived.
Blood-soaked Bibles and overturned chairs lay strewn across the church's floor after the shooting.
Security has been stepped up in the area in recent days following the arrest of two men last week who police said had bombs hidden in their car.
There have been several incidents of violence in Mombasa in recent months, involving the security forces and Islamist militants.
The al-Qaeda group al-Shabab has carried out several attacks in Kenya since 2011, when Kenya sent troops into Somalia to battle it.
Last year, at least 67 people were killed after al-Shabab militants took control of the Westgate shopping mall in the capital Nairobi for four days.