Lapiro de Mbanga: Cameroon protest singer dies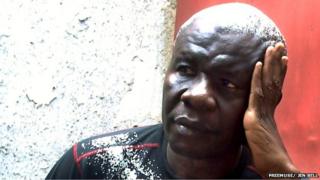 One of Cameroon's best-known singers, who spent three years in jail for his role in anti-government protests, has died in exile in the US.
Lapiro de Mbanga's song, Constipated Constitution, was banned after it became an anthem of the 2008 protests.
He was jailed after being convicted of taking part in riots, in which at least 40 people are said to have died. He always denied the charges.
On his release, he was given asylum in the US. He died from cancer aged 56.
Despite the 2008 protests, the constitution was changed to let President Paul Biya seek re-election. He remains in power, aged 81.
De Mbanga, born Pierre-Roger Lambo, was a member of the opposition Social Democratic Front.
He sang and rapped in pidgin - a mixture of English, French and local languages.