Pistorius trial: Nation of competing realities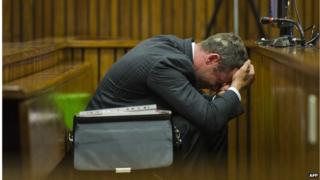 This can be a bewildering country.
Take one exit on the drive north from Johannesburg to Pretoria and you'd think you were in downtown Geneva. Take the next and it's more like Kinshasa.
Different worlds - in a nation of notorious inequality.
And as we've seen this week, those sharp contrasts - in wealth, infrastructure and attitudes - can find their way into almost any corner of South Africa; even the austere surroundings of Judge Thokozile Masipa's Courtroom D in Pretoria's High Court.
As with so many things in post-apartheid South Africa, it's easy and tempting to view the nation's disparities through a racial lens.
There sits the wealthy white athlete with his ludicrously expensive white legal team. Here comes a succession of witnesses - all white so far, bar one security guard - who seem to come from a life of cloistered privilege. Fast cars. Flashy watches. Holiday homes. Expensive restaurants.
One of Oscar Pistorius's neighbours mentions his (presumably black) housekeeper; but he casually refers to her as a "servant".
Behind the distraught families of accused and victim sit representatives of the world's media, digesting a drama that might not have made so many headlines if the actors were black, or poor.
And one could go on. Leave aside the calm, capable judge herself, and most of the black officials in the courthouse appear to be filling subsidiary roles, as security guards, struggling court interpreters, a few administrators, and the staff at the coffee shop on the 4th floor.
Twenty years after the advent of democracy in South Africa, transformation is still a work in progress.
But the racial issue is only part of the story.
And this week - it strikes me - a more revealing perspective has been emerging in the courtroom, as the police's calamitous handling of the crime scene at Pistorius's home has come under a glaring spotlight.
It has been awkward viewing. Under cross-examination the police have shown - as they did at the bail hearing last year - a consistent ability to shoot themselves in the foot. Evidence has been mishandled, items stolen. A prevailing sloppiness reigns.
It's symptomatic of a country where state employees are under-trained, under-resourced, and swamped by work. A lawyer outside the courthouse tells me there's a five-year backlog of toxicology reports holding up thousands of drunken driving cases.
"It's not incompetence. They do their best. It's just limited training, experience, and resources," said Mannie Witz, who is representing one of Reeva Steenkamp's friends, Darren Fresco.
And yet in court - a few feet across from the state prosecutor and his police witnesses - some of the best forensic and ballistic experts in the world sit on Pistorius's team. These are men who used to work for the South African state, but have since been lured away into the private sector.
It's a pattern repeated in other sectors. Private enterprises are thriving as the state sector is increasingly weighed down by corruption and incompetence, and a frustrated population takes to the streets in angry protest over the government's failure to deliver basic services.
Over the years Oscar Pistorius himself has been held up as an example of many, contradictory things in a nation still wrestling with its own miraculous past and its violent, unpredictable present.
But for me, it is Judge Masipa we should be focusing on now.
She's a quietly impressive figure; a beneficiary of South Africa's attempts to transform its judiciary.
And now her daunting job is not just to weight the evidence before her, but to navigate the different worlds presented to the court - the under-resourced police, the expensive hired experts - and to find a path not just to the truth about Oscar Pistorius, but about South Africa's own competing realities.