Mali Islamist leader Red Beard 'killed in French strike'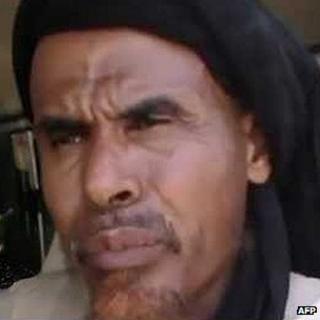 A senior Islamist leader, who had a $3m (£1.8m) US government bounty on his head, has been killed in a French missile strike in the north-east of Mali, according to officials.
Oumar Ould Hamaha, known as Red Beard, is said to have been involved in the kidnapping of foreigners.
He was reportedly killed earlier this month along with other militants.
France began a military intervention in January 2013 after Islamists took control of the north of Mali.
France is now winding down its troop presence in the country but says it will continue to deploy its forces against remaining pockets of militancy.
Hamaha - known as Red Beard because of his henna-dyed facial hair - was a former member of al-Qaeda in the Islamic Maghreb (AQIM) and later a leader of Mali's Movement for Unity and Jihad in West Africa (Mujao).
Malian military officials said he was killed in recent French air strikes in the north of the country.
According to the bounty offered under the US State Department's Rewards for Justice programme, Hamaha participated in the kidnapping and ransom of several foreigners, including Canadian diplomat Robert Fowler from Niger in 2008.
Islamist and separatist groups seized northern Mali in 2012 following a coup.
Last year's French-led military offensive in Mali broke the grip of the al-Qaeda-linked militants but small groups have continued to operate.
UN peacekeepers took over security last July last year and France is due to be reducing its number of troops in Mali to about 1,000.
At the height of the crisis, France had a force of about 4,500 in its former colony.