Central African Republic: UN launches human rights probe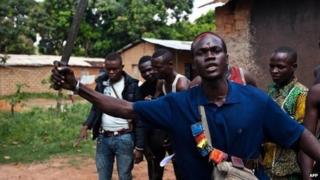 The United Nations has launched a human rights investigation into the violence in the Central African Republic.
Inquiry head Bernard Acho Muna said he hoped the presence of investigators in CAR would help prevent a genocide.
The UN Security Council ordered the inquiry in December to identify suspects who could be prosecuted for the violence.
Thousands of people have been killed in the conflict between Muslim and Christian militias.
The UN's World Food Programme says that about 1.3 million people - a quarter of the population - are in need of aid.
'Hate propaganda'
Some 7,000 troops - from France and African countries - have been mandated by the UN to help restore order
"We have to put an end to the impunity," said Bernard Acho Muna, the Cameroonian judge who is heading the inquiry, Reuters news agency reports.
He said the "hate propaganda" in CAR was similar to that in Rwanda before the 1994 genocide that killed about 800,000 people.
"We don't wait until genocide is committed and then we call for prosecution," Mr Muna said at a press conference in Geneva, before heading for CAR.
"I think it is in our mandate to see how one can stop any advances toward genocide," he added.
Tens of thousands of Muslims have fled as Christian militias have stepped up their attacks since the forced resignation of CAR's first Muslim ruler, Michel Djotodia, in January.
Interim President Catherine Samba-Panza, a Christian, has appealed for an end to the bloodshed, but with little success.
The militias claim to be taking revenge for atrocities committed by mainly Muslim rebels after Mr Djotodia seized power in March 2013.
Many Muslims have crossed the borders into neighbouring Cameroon and Chad, while thousands more are living in camps inside CAR.
CAR is rich in gold, diamonds and other natural resources but decades of unrest and mismanagement have left most of its people stuck in poverty.