Joshua French gets life for killing Tjostolv Moland in Congo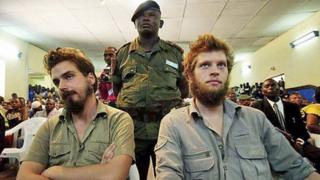 A court in the Democratic Republic of Congo has imposed a life sentence on a British former soldier for killing a fellow convict in jail last year.
Joshua French, who is already on death row, denied killing Norwegian Tjostolv Moland in the cell they shared.
The men had both received death sentences in 2009 for spying and the killing of their Congolese driver - charges which they denied.
The UK Foreign Office said it was "very concerned about Mr French's welfare".
A spokesman said the government would continue to make the "appropriate representations" to the DRC authorities about Mr French's case.
"We remain very concerned about Mr French's welfare and will continue to provide full consular assistance at this difficult time, especially as he continues to face the death penalty following his previous conviction," the spokesman said.
Legal charity Reprieve said Mr French had been suffering from "severe mental illness" throughout his trial.
Maya Foa said: "He is acutely psychotic and should never have been put on trial - his best friend's death was proven to be suicide.
"The UK government must do everything they can to get him transferred to a hospital where he can receive the medical attention he so desperately needs."
Ambush claim
Mr Moland was found dead in prison last August.
He had worked with the Norwegian military until 2007, at which point he and Mr French started working for private security companies in Africa.
They claimed they were in DR Congo to research setting up their own security company.
The men said they had hired Abedi Kasongo as a driver after their motorbike broke down, and that he was killed when they were ambushed by gunmen in the jungle.
Their original convictions were overturned by a high military court in early 2010, before a new panel of judges convicted them in a retrial later the same year.
The Norwegian government, which denied that the men had been spying for Norway, asked the Congolese authorities to allow them to serve their sentences in Norway.
A joint UK-Norwegian national, Mr French was born in Norway to a British father and Norwegian mother, and lived in Margate, Kent, as a child.
He moved back to Norway when his parents divorced, but returned to the UK aged 20 and served in the British army's Parachute Regiment.