Rwanda genocide: German court jails ex-mayor Rwabukombe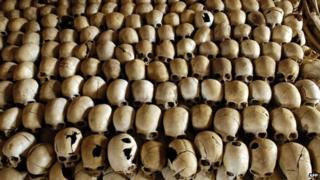 A German court has sentenced a Rwandan former mayor, Onesphore Rwabukombe, to 14 years in prison for his role in Rwanda's 1994 genocide.
The 56-year-old was found guilty of ordering the killing of hundreds of people in a church where they had sought refuge in Kiziguro.
He had been living as a political refugee in Germany since 2002.
It is the first trial connected with the Rwandan genocide to take place in Germany.
According to the AFP news agency, the three-year trial in Frankfurt heard from more than 100 witnesses and criminal investigators were sent to Rwanda.
The trial heard how between 400 people and 1,200 people were killed on 11 April 1994 at the church in Kiziguro in eastern Rwanda, where Rwabukombe was then the mayor.
Rwanda's genocide was sparked by the death of former President Juvenal Habyarimana, who was killed when his plane was shot down close to the capital, Kigali, on 6 April 1994.
Within hours of the attack, certain members of the government organised ethnic Hutu militias across the country to systematically kill Tutsis and moderate Hutus, resulting in more than three months of violence in which some 800,000 people died.