CAR's militias face identity crisis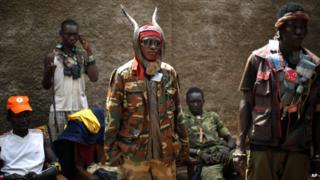 The three prisoners knelt in the dirt. Standing in front of them, Sylvestre Yagouzou angrily brandished a grenade that one of the men had been caught carrying in his pocket. Then he grabbed some of their amulets - leather necklaces with plastic pockets - and with a long knife began to slit each one open, looking for evidence.
It was an instructive scene; a sign that the Central African Republic's fearsome anti-balaka militia are starting to worry about their image and their position in the chaotic race to fill the local military and political power vacuum in this shattered nation.
The anti-balaka is a loose alliance of village militias and vigilante groups that some see as the heroes and many others regard as the biggest threat to peace. Mr Yagouzou describes himself as the Christian militia's "co-ordinator of military affairs" in Bangui.
Earlier this week, CAR's new president, Catherine Samba-Panza, declared "war" on the anti-balaka - the name can be roughly translated as machete-proof or invincible. She said the fighters had "lost their sense of mission" and had become "the ones who kill, who pillage, who are violent".
At their camp amid the trees on the far side of Bangui's international airport, Mr Yagouzou explained that he'd been driving round town specifically looking for "fake anti-balakas" who might be involved in looting and giving the movement a bad name.
"I found this one in a bar, drinking, and when I searched him I found this grenade," said Mr Yagouzou, standing over Gemmy Ozo, 42. "I will check his amulets to see if they are real."
The first package to be sliced open contained nothing but folded paper. Standing around us, a dozen men, armed with machetes and bows and arrows, made "told-you-so" noises.
But the other packets, and a small glass bottle, contained what Mr Yagouzou quickly declared to be "genuine" items - perfumed oil and various ground herbs; items that are believed, with varying degrees of conviction, to protect the wearer from machetes and bullets. So Mr Ozo was not a fake, but he was still in trouble for drinking in public and behaving in what Mr Yagouzou felt was an inappropriate manner.
Looting
"I've caught a few others looting and taken them straight to the gendarmerie," said Mr Yagouzou, who was hoping the new government would send a delegation to his camp to discuss the possibility his men could take part in joint patrols in the city.
Watching the proceedings, a younger man who said he was a spokesman for the anti-balaka, bitterly condemned the new president's comments about the group and her failure to include any of its leaders in her cabinet.
"We are unhappy. They treat us like scum now, but for months we were the only people defending the civilian population in this country. If the president has declared war on the anti-balaka it means she has declared war on the people of the Central African Republic," said Sebastien Wenezoui.
But what about the extensive evidence that some anti-balaka have been involved in murder and rape? And the many members who have publicly declared their determination to kill all Muslims left in the country?
"Some of these children," he gestured to the young men nearby, "are hungry, so they go off and they're obliged to commit abuses."