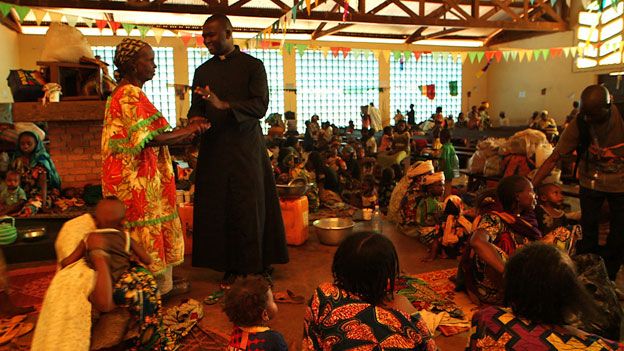 Father Xavier Fagba wandered past the wooden pews inside St Peter's Parish Church in the small, shabby town of Boali in the Central African Republic, and patted a few children's heads before settling down to help a tearful six-year-old girl who had stubbed her toe.
In a country busily ripping itself apart in a bloodthirsty cycle of revenge, Father Fagba and his congregation are a remarkable exception - an unlikely group now bound together by a messy combination of high ideals and the purest desperation.
The crowds sheltering inside his church - families camped out in the aisles, luggage piled high on the altar, bags of food in the font, Christmas bunting still hanging from the rafters - are all Muslims seeking sanctuary, convinced that if they leave the compound they will be killed on the spot on the dusty streets of Boali.
"Now is the time for men of good will to stand up and prove the strength and quality of their faith," said Father Fagba, standing in his floor-length black cassock beside a concrete wall peppered with bullet holes.
"When I did this, nobody in the community understood me. They attacked and threatened me."
The Muslims - about 650 in all - arrived at the church on 16 and 17 January.
The balance of power in the Central African Republic was changing fast, with the overwhelmingly Muslim Seleka fighters forced to retreat, and local Christian militias reasserting their control.
Over previous months, tens of thousands of predominantly Christian villagers across the country had been terrorised and forced to flee from their homes by the Seleka.
Now it was the Muslims' turn to be singled out.
Aisatou Hamadou saw her husband hacked to death in the market in Boali.
Her six-year-old son escaped with a machete wound on his head.
Christian crowds tore down the town's two mosques.
At least 22 children are reported to have died during the violence.
"It's not safe in this church. Every evening they shoot at the building. The Christians don't want us here. They want to kill us all," said Ms Hamadou.
Nearby, 67-year-old Adamou Mohammed was close to tears as he touched his bandaged forehead and described how his Christian neighbours had attacked him with a machete.
"We must leave this country. They do not like us here now," he said.
Father Fagba has struggled to find enough food and supplies to look after his guests.
What's more, he believes some of those now taking refuge in his church were themselves involved in attacks on Christian families in the area last year.
"I've spoken to those who have done bad things. But I have not mentioned their deeds," he said.
"When I talk to them it's a call for them to change their lives and their behaviour."
At 13:00, the men gathered in a narrow strip of shade outside the church, next to the concrete clock tower, to pray.
The grass and dirt compound is now encircled by spools of razor wire.
A group of African peacekeepers, from neighbouring Congo-Brazzaville, stationed at the church, intermittently patrolled the area.
A few of the Muslims wandered beyond the razor wire.
Father Fagba said some people in the town appreciate what he is trying to do and help those trapped inside.
But when some local businessmen began bringing food and water to the church a few weeks ago, he says they were quickly targeted by the Christian "anti-balaka" militia and "wounded and threatened."
On a sweltering afternoon, five young anti-balaka swaggered down the main street beside the church compound, good-luck charms suspended round their necks, bleary eyes hiding behind sunglasses, eccentric headgear flaunted like sneering catwalk models.
"There should be no more Muslims in our country. They must all leave," said one of the men, who looked about 18 and said his name was Mad Dog.
"And if they don't, we must kill them all. It doesn't work for us like this."
In some areas the anti-balaka have now been confronted and disarmed by foreign troops.
But elsewhere they continue to fill the gaping power vacuum that exists in much of this vast and often inaccessible country.
Last week, soldiers from neighbouring Chad took some of Boali's Muslims back to their country.
Chad's troops have been frequently criticised for openly siding with the Muslim Seleka fighters, and on this occasion they reportedly opened fire on civilians in Boali, killing several people.
This week, a senior diplomat from Cameroon arrived at the church to see if any of his citizens were among the crowd left behind and in need of repatriation.
The entire congregation lined up in the sun to give him their names - all insisting they were indeed from Cameroon, although it seemed clear that was not the case.
"I have no way of knowing who is telling the truth," said the diplomat quietly.
Later, women lay out clothes on the lawn to dry, and a few cooking fires were lit.
"The Muslims discovered in our church that the God we worship is the same as their God," said Father Fagba.
"And that's the vision the whole of this country needs to have.
"We should consider them as our brothers. What happens here gives me a certain conviction."